New York Comic Con 2013

Viz Media Panel

by Crystalyn Hodgkins,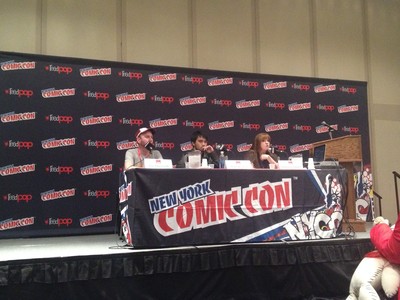 Eric Eberhardt (marketing manager for Weekly Shonen Jump and digital manga operations), Mark de Vera (publishing sales coordinator), and Charlene Ingram (senior manager for animation marketing) hosted the Viz Media panel on Friday afternoon to a completely packed room. De Vera started off the panel with some print manga announcements. Viz will release Setona Mizushiro's Black Rose Alice manga as a part of its Shojo Beat imprint, with the first volume shipping on August 5, 2014. Viz will also release the first volume of Aruko and Kazune Kawahara's My Love Story!! (Ore Monogatari!!) manga as part of its Shojo Beat imprint on August 5, 2014. Additionally, Viz will release the Battle Royale: Angels' Border manga on August 5, 2014 for US$12.99. The company will also release Kazue Kato's Time Killers: Kazue Kato Short Story Collection on September 2, 2014 for US$14.99. The collection will include color pages. Additionally, de Vera revealed that Takaya Kagami and Yamato Yamamoto's Owari no Seraph (Seraph of the End) manga will get a print release starting on August 5, 2014. Lastly, Viz will release Yū Sasuga and Kenichi Tachibana's Terra Formars manga, starting on July 15, 2014 for US$12.99. Viz will release Terra Formars as a part of its Viz Signature line.
Eberhardt then talked about Viz Media's digital releases. The Viz Manga app is available on iOS, Android, Nook, and Kindle Fire devices. Viz has about 160 series available digitally, and the Viz Manga app also releases manga volumes on the same day they are available in print. Viz Media also has a Perfect Square app, which includes manga and comics for younger fans, such as the various Pokemon manga, Max Steel, Voltron Force, Mameshiba, Little Miss Sunshine, and Mr. Strong titles. Some manga on the Viz Media app are also available digitally first, like Cross Manage. Viz Media also has mature titles digitally, such as March Story, Dorohedoro, and NANA. These titles aren't available on Android or iOS devices because they are mature titles, but they are available on Viz's website. Viz is also starting to release classic manga digitally that are hard to find, like Please Save My Earth, MAR, and Case Closed. Eberhardt explained that Viz also brought its entire digital catalog to Amazon Kindle devices and on the Amazon Store recently.
New manga volumes that Viz has released digitally in the last few weeks are Naruto 62 and Bakuman 20. Takehiko Inoue's Pepita: Inoue meets Gaudi book is also available digitally as an enhanced e-book. Viz is experimenting with this release, and if there is an interest then it, Viz will look into doing similar releases in the future. In November, Viz will release Naruto volume 63 and Psyren volume 15 digitally and in print, and in December Viz will release One Piece volume 69 and Demon Love Spell 5 in digital and in print. Eberhardt noted that Demon Love Spell is doing well for Viz digitally.
Eberhardt then talked about Viz's digital Weekly Shonen Jump magazine. Manga available in the magazine include Naruto, Bleach, One Piece, World Trigger, Nisekoi, One-Punch Man, Toriko, Yu-Gi-Oh! Zexal, Blue Exorcist, and the color edition of the Dragon Ball manga. Viz recently added Seraph of the End to the lineup. Those interested can get the Weekly Shonen Jump digital magazine for free with ad support on Android devices. Those attending NYCC can get a discounted yearly subscription to the digital magazine US$19.99 (normally the subscription is US$25.99).
Ingram then talked about Neon Alley, and started by showing a sizzle reel of shows available on Neon Alley, including Ranma ½, Naruto, K, Madoka Magica, Zetman, Gurren Lagann, Magi, Revolutionary Girl Utena, Bleach, One Piece, Tiger & Bunny, Fate/Zero, and Naruto Shippuden. Neon Alley is a service that streams anime 24/7 uncut and with an English dub either on an Xbox 360, PlayStation 3, or PC. Viz Media also hosts convention coverage and contests on the channel. The channel is US$6.99 per month. Neon Alley also offers a catchup service on all platforms, so fans can catch up on episodes they miss.
Next week, Neon Alley starts a new season. The new season will include Revolutionary Girl Utena, Puella Magi Madoka Magica, Magi, Gurren Lagann, Ranma ½, and Naruto Shippuden. Neon Alley will also include continuing series from last season such as Blue Exorcist, Vampire Knight, Death Note, and more.
Ingram then talked about new releases: Naruto Shippūden: The Lost Tower, and Naruto set 16 are available now, as is Bleach set 18. Bleach set 19 will ship on December 10. Tiger & Bunny The Movie -The Beginning- is available now, as is Berserk: The Golden Age Arc II: The Battle for Doldrey. Viz is screening the third film at NYCC this weekend. Zetman will ship on November 5 on DVD and Blu-ray Disc, and the first home video set for Accel World will ship on November 26. Those who pre-order the Accel World set at select retailers will get a 48-page artbook.
Ingram then showed a trailer for the new Naruto Ultimate Ninja Storm 3 Full Burst video game that Namco Bandai Games is shipping on October 22 for the PS3, PC, and Xbox 360.
Viz just wrapped up its simulcast of Blood Lad, and is currently simulcasting Coppelion. The company plans to release Coppelion next year on Blu-ray Disc and DVD. Viz also plans to release Ranma ½ with both English and Japanese audio tracks on DVD and Blu-ray Disc.
Ingram then announced that Tiger & Bunny The Movie -The Rising- will get a theatrical screening in February 2014. The film is opening in Japan on February 8, and Viz is screening it in selected cities in North America in February. Viz will then release the film on DVD and Blu-ray Disc in 2014.
Ingram then launched into a Q&A to end the panel.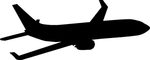 ---
this article has been modified since it was originally posted; see change history
back to New York Comic Con 2013
Convention homepage / archives