SMASH! 2013
by Mark Sombillo,


SMASH was held 10 August 2013 to an unseasonably warm Sydney winter's day. The weather and the ensuing slight discomfort generated by the swarm of people crammed into the Sydney Convention Centre exhibited just how far the convention has come in its 7 year history. We've always enjoyed attending this event and from the number of interstate attendees it definitely has kept a reputation of delivering a solid experience for everybody. So now we visited again and braced ourselves for more great times.
Our journey started on the Friday before the con proper. Members of the press were given the opportunity to meet the special guests and ask a few general questions. In a country where pop culture conventions reign supreme and Hollywood names seem to garner more attention, SMASH's line up definitely holds a candle to that and there was genuine excitement in the press room as the guests walked in.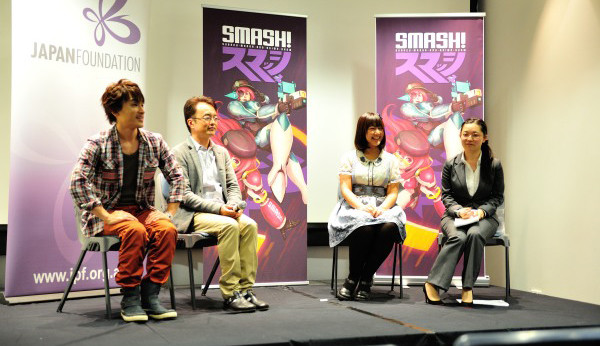 First in was Haruko Momoi whose recent work were in popular titles Steins; Gate and Tales of the Abyss. With an adorable voice that seems to makes you feel as if you're in a highschool anime episode, she proclaimed that her overriding mission while in Sydney was to sample the local cuisines. Indeed she seems to have already done her research and was well aware of the traditional way of eating Tim Tams with milk.
Next we had Hidenori Matsubara, animation director for the Neon Genesis Evangelion shows and movies and character designer for a few other popular titles like Ah! My Goddess and Wolf's Rain. Slightly more timid than Momoi, he assured us that he was a lot more animated once you got to know him. However he was quite passionate when it came to his art, nostalgically looking back at the differences the new age of computer graphics have brought to the old world of hand drawn cel animation.
Lastly came Masakazu Morita. A staple of the shounen anime shows, he's voiced the leading characters from Bleach and Tiger and Bunny and a host of other well-known shows. Showing his popularity, he related the differences between what he's come to expect from a Japanese audience versus western crowds like in Australia, noting in particular how here has to do panel discussions that allows him to actually interact with fans.

The next day dawned and SMASH opened up to a massive line of eager attendees. First order of business was the AMV screening. Historically, AVCon in Adelaide used to boast to being the premiere AMV con in the country, having attracted many international entries. With the addition of the Iron AMV contest and an influx of entries that required multiple screenings, Manifest eventually took over this position. This year however, SMASH announced a record in the number of videos submitted which really puts it in top spot. After seeing what was being screened, it wasn't just a bunch of your typical Naruto crossed with Linkin Park videos; there was genuine quality to what's shown.
Across the morning, a whole host of panels peppered the schedule with noteworthy ones being the Yuko Miyamura VA workshop and Props panels. These were however overshadowed by the spectacle of the live performances by Loverin Tamburin followed up by Haruko Momoi singing both her own works as well as favourites from various anime. Loverin Tamburin's debut into the anime world has been through performing the opening theme for Makai Senki Disgaea. Their electric performance shook out any trace of sleep left in the attendees as the front of the stage was occupied by fans energetically dancing and singing along. Momoi was delightful and it was definitely a welcome change to the typical panel discussions that you'd expect from guest appearances.

As we crossed into the afternoon, we wandered around the traders hall. More than any other year, the density of the crowd in this room exhibited how SMASH has started to outgrow the Sydney Convention Centre. It was a timely then that it was announced during the day that from next year, SMASH was to become a 2 day convention. It should alleviate one of the drawbacks of having a one day con, namely events clashing in the schedule and people missing out as they had to make a choice.
Staples of the convention like the Maid Café, Artists room and the Gundam displays also got a fair share of attention. The walkway connecting these to the main events theatre was endlessly packed with people and it did get a bit inconvenient when the escalators stopped working. This was particularly the case when the major drawcards like the Morita panel and cosplay competition attracted even more people to migrate upstairs.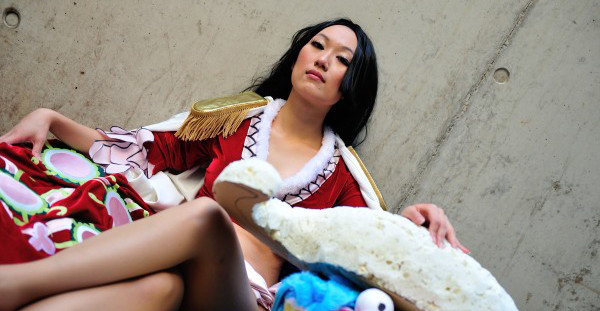 The Madman sponsored cosplay competition got underway in the latter part of the afternoon and as far as entries were concerned, it was the typical spread of fantastic creations that took days and weeks to make to those that cosplayers put together hastily and really just wanted to have fun on stage. The hosting however was a bit lacking. We noted that this was the same host that was on stage for quite a few of the other events of the day and by the time we reached the cosplay contest it felt like there was a bit of tiredness in her delivery. We later learned from the backstage crew that there was a slight changing of the guards in regards to the audio-visual team and there was a noticeable drop in this department as well. Altogether it meant that the contest carried on but it felt a little flatter compared to previous years.
We finished off our day by visiting the rooms on the top floor that held the signing area and we also looked in to the awards ceremony. The stars of the weekend definitely had a tonne of fans vying for their attention with the lines packing the fairly spacious area. As the day wore on and fans stuck around in the hopes of end day sales, we left SMASH pondering how it has fared compared to past deliveries.

This is our team's fourth venture to SMASH so by now the gleam of novelty has well and truly worn off. With over 7000 attendees, by now, the typical signs of a maturing convention have started to become obvious; overcrowded hallways and long lines, subpar presentation in major events that were assumed will gather big crowds on their own, signage issues in the back panels rooms, and so on. These and a few more are issues that occur in practically all the conventions and indeed they aren't new to SMASH either.
Technically speaking, SMASH really could just keep doing what it does and it may do just fine but after a while, the routine will inevitably get tiring and negative aspects will become more glaringly obvious. With the convention being held over two days and at the Rosehill Gardens (20km from the CBD) from next year, it will be a different ball game and we can only wait and see what changes this will bring. At least for 2013, SMASH has yet again proven that it's still a fun convention to attend, possibly being outshone only by PAX which has a much higher financial backing. Certainly we're looking forward to see what they have in store for us next year!

Thanks to Susan Ma and the rest of the SMASH! team for giving us the opportunity to report from the convention as always.
---
discuss this in the forum (3 posts)
|