News

Corpse Party for 3DS Listed by U.S. Rating Board

posted on by Egan Loo
The American organization Entertainment Software Rating Board (ESRB) lists the Corpse Party game for release on Nintendo 3DS. A 3DS release has yet to be announced for the United States. ESRB describes the game and its M rating for "Blood, Strong Language, Suggestive Themes, Violence":
This is a survival-horror adventure game, in which players help high-school students escape from a haunted elementary school. From an over-head perspective, players explore the school and interact with various objects and characters. Some interactions can lead to sequences that depict acts of violence: a character repeatedly stabbed with a pair of scissors; a character stabbed with a knife. Violence is also described in the text (e.g., "The third victim was stabbed in the left eye an indeterminate number of times"; "Buckets of blood spilled out from my head. I'm sure it was hell to clean up later..."). Blood is frequently depicted near corpses and when characters are injured. The game includes some suggestive references in the dialogue (e.g., "Big t*ts does it for you, eh"; "If you don't, I'll email you a beautiful crotch shot—so watch out; "He grabbed me and forced me down, then began unbuttoning my blouse..."). In one scene, bathing characters are depicted with soap bubbles covering their chests and genitals. The words "f**k" and "a*shole" appear in dialogue.
5pb. shipped Corpse Party: Blood Covered …Repeated Fear, the Nintendo 3DS port of its 2010 PlayStation Portable horror game Corpse Party, in Japan on July 30.
The original Corpse Party from Team GrisGris followed of a group of high school students trapped in Heavenly Host Elementary, which is haunted by children who disappeared. The 3DS version includes a new chapter from Team GrisGris' Makoto Keidōin and Sakuya Kamishiro. First-print copies of the game in Japan also included a download code for an extra chapter in the game, titled "Tokoyami no Hotaru" (Firefly of Eternal Darkness).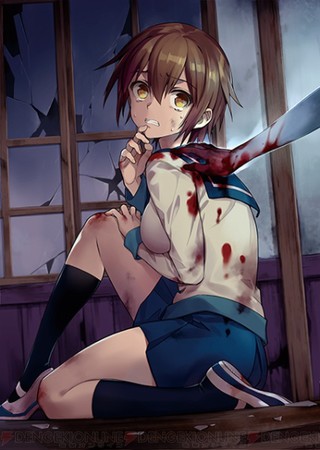 XSEED Games released the PSP version of the original Corpse Party game in North America and Europe, as well as the follow-up games Corpse Party: Book of Shadows on PSP and Corpse Party: Blood Drive for PS Vita. Xseed Games also announced that it will release the original Corpse Party game for PC, and 5pb. released an iOS port with Xseed's English translation last year.
[Via Gematsu]
---