News

Naoki Urasawa's New Manga Title Revealed as Mujirushi

posted on by Rafael Antonio Pineda
This year's 20th issue of Shogakukan's Big Comic Original magazine revealed on Thursday that Naoki Urasawa's new manga is titled Mujirushi - Le signe des rêves (The Sign of Dreams). As previously announced, the manga will launch in the magazine's next issue on October 20.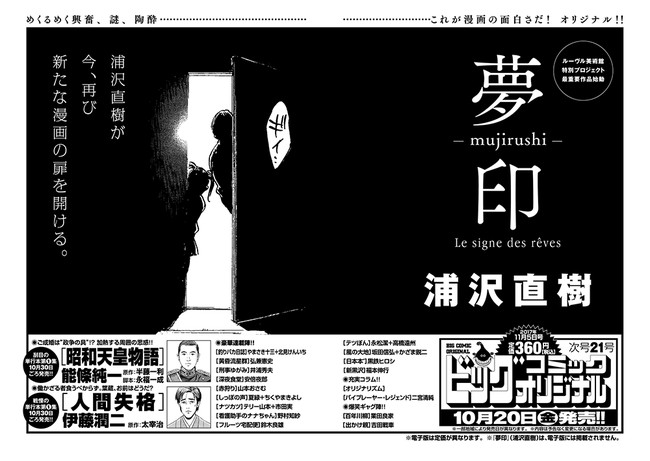 Shogakukan's Weekly Big Comic Spirits magazine announced last year that it would debut a new manga by Urasawa in 2017.
Urasawa and Takashi Nagasaki ended their Billy Bat manga in Kodansha's Morning magazine in August 2016. The duo launched the manga in Morning magazine in October 2008. Kodansha published the 20th and final compiled book volume of the series in September 2016.
Viz Media has published Urasawa's 20th Century Boys, 21st Century Boys, Monster, and Pluto manga. Monster inspired a television anime series in 2004-2005, and 20th Century Boys inspired a live-action trilogy film adaptation in 2008-2009. Additionally, his Yawara! A Fashionable Judo Girl manga inspired an anime series in 1989-1992, an anime film in 1992, and an anime special in 1996. An anime project based on Pluto is in the works.
Viz Media is currently releasing Urasawa, Hokusei Katushika, and Takashi Nagasaki's Master Keaton manga. The series inspired a television anime adaptation in 1998, and an original video anime (OVA) continuation in 2004.
---