J-Pop Summit Festival
by Evan Miller,


The J-Pop Summit Festival
After strolling through every corner of New People, I returned to Post Street to check out the event held in correlation with the opening of the center: the J-Pop Summit Festival. While the festival was not on the scale of Japantown's annual Cherry Blossom Festival, there were a decent number of food booths and a stage with concerts going for the whole afternoon. However, my first stop at the festival was a tad less glamorous.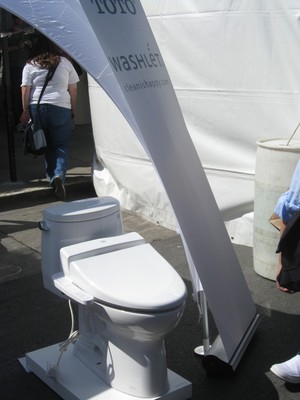 Yes friends, that's a toilet. Japanese plumbing product company Toto, who make the "washlet," had the booth closest to the stage area, which meant that practically everyone who attended the festival got to take a look at the company's take on bathroom technology. Making a bad joke here would be far too easy, so let's move on!

A good number of booths kept with the music theme of the festival. The one you see here is for a tent with visual-kei related publications and other stuff for sale. Other booths devoted to craftwork, art supplies and other stuff dotted the plaza. The only awkward addition was a booth for cable provider Comcast, which received about as much traffic as an outdoor swimming pool in Alaska. In January.

One interesting addition to the festival was a live painting session with artist Yūichi Yokoyama, who created the work you see here. Encompassing a number of "faces" that he also used in works displayed for New People, the artist simply painted and left the finished product on the sidewalk (as you see here). Most people took a quick peek at the paintings while strolling towards food booths. If they were walking on the other side of the street, they probably had to witness this: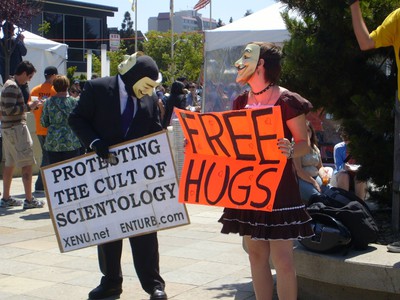 Something tells me that a mostly older crowd that actually is interested in the stage events and concerts going on around them isn't the right crowd for the heartfelt message of "Anonymous." They probably aren't in need of "Free Hugs" either. Moving on...

The "Harajuku Kawaii Experience" stage was the other center of activity for the festival. After a "makeover contest," the band Red Bacteria Vacuum (pictured here) took the stage to get the crowd moving. The stage area had a pretty decent-sized crowd, especially considering that their competition down the block was the Yoshitaka Amano panel. The music was good, but I can't really speak about the makeover contest since I was still touring New People when it happened. So much for that makeover I was hoping for...
It's difficult to tell at this point whether New People will be the success that Horibuchi is hoping it will become. One thing is certain though: if you're passing through San Francisco Japantown, it's well worth a look. More information about the center can be found on their website, New People World.
---
back to "New People" Grand Opening in SF
Feature homepage / archives