×
remind me tomorrow
remind me next week
never remind me
Subscribe to the ANN Newsletter • Wake up every Sunday to a curated list of ANN's most interesting posts of the week.
read more
Interview: CoMix Wave's Koichiro Ito
by Zac Bertschy & Kim Morrissy,

Producer Koichiro Ito has been working alongside director Makoto Shinkai at CoMix Wave Films Inc. for more than a decade. He's been there, deep inside the creative process, for each one of Shinkai's films since Voices of a Distant Star, beginning with The Place Promised in Our Early Days in 2003. We had the opportunity to chat with Mr. Ito at CoMix Wave Films Inc. in Tokyo about their newfound success, and what it's like to work so closely with such a celebrated artist.

How and when did you start working with Makoto Shinkai?

Ito: We met through The Place Promised in Our Early Days. I think that was in 2003? Shinkai was developing the film around the time I started work at CoMix Wave. You see, CoMix Wave Films Inc. started off as a licensing company that helped manage titles people made individually. The success of Voices of a Distant Star forged a relationship between Shinkai and the company, and he was asked to make his next title with CoMix Wave. But the film wasn't getting made at all at first. (laughs)   Obviously, it was impossible for the few staff to make a 90-minute film by ourselves, so we started recruiting staff and revised the schedule until we could get things done.

Five Centimeters Per Second
(c) Makoto Shinkai/CoMix Wave Films
What's it like working with Shinkai? What kind of person is he?
Ito: He's a very intelligent person. He's also tough as nails. I've met a lot of directors through my work, but Shinkai strikes me as particularly intelligent and resilient. It's probably because he makes original works, you know? A lot of people make adaptations of another person's work, but I do think that making something original gives you a sense of responsibility. He's certainly no fool.
Besides the Shinkai films, did you work on any anime?
Ito:  Well, for the most part I work with Shinkai, but I've worked with other directors too. I worked with Shuhei Morita with his debut work Kakurenbo. His short animated film (Possessions) was nominated for Academy Award in the category of Animated Short Film.
I also worked with Hitoshi Takekiyo of MontBlanc Pictures on After School Midnighters.
There are other directors I worked with on OVA and TV series.    Regarding the directors that I worked with for the films, that was all.
How much personal input did you have in the creative process behind your name., if any?
Ito: That's a really hard question to answer. It could be everything or nothing. (laugh)  Shinkai essentially decides everything. There could be any number of producers, but none of them have forced him to do something.  They discuss things with the director. If the director ever hits a roadblock, the producers give suggestions. Everyone is bouncing ideas off each other.  I can't describe the amount of input precisely, but we do exchange ideas about everything—the story, music, casting, and so forth. For example, with this film in particular, we came up with the title your name.  I pushed strongly for your name. as a title, although the director was the one who ultimately decided to adopt it.
How did you decide the locations to use in the film?
Ito: It was decided entirely through whatever was convenient for the story as it evolved. Shinkai is fond of Tokyo as a setting, so naturally part of the film was set in Tokyo. The story also needed a country setting that evoked a sense of history. He picked Hida, because you could make a day trip there from Tokyo, but it's also quite far away. Thus, the locations were 100% decided by the story. The producers had absolutely no bearing on that decision.
your name. was the first Shinkai film to receive a wide theatrical release in mainland China. Why do you think it did so well in China?
Ito: The biggest reason is that anime culture  has been fostered in China (or  maybe all over the world) and that  Japanese anime and the worldview of Shinkai's works  are accepted. Another reason is that the timing was spot on. Just a few years ago, not many Japanese films were screened in China, but it just so happens that in 2016,  the Japanese animations started to gain the existence there.    That's the way things are in China. Still, even with the fickle conditions, your name. managed to get released. Normally, it would have taken around a year for the procedure to be completed, but it only took two months for them to be finalized. We were pretty lucky in that sense.
Kazuki Sunami, Producer: Ito attended and checked the dubbing in China.
Ito: In case it spins out of control by just letting it go, I wanted to do my best I could do to live up to the fans' explanation. That was the reason I attended the voice-over checks

The Garden of Words
(c) Makoto Shinkai/CoMix Wave Films
This is sort of a silly question, but the teacher from The Garden of Words makes a cameo appearance in your name.. Does that mean The Garden of Words takes place in a shared universe with your name.?
Ito:  It is completely parallel world. (laugh). Characters from previous Shinkai films often make cameo appearances in subsequent titles. For example, Asuna from Children Who Chase Lost Voices makes an appearance in The Garden of Words. Shinkai also includes a lot of cats and dogs with identical names in his films. Technically, they're all different characters, though. It's basically just fan service.
Whose idea was it to bring RADWIMPS in to do the music for the film and what about their music made it a good fit?
Ito: Unlike Shinkai's previous films, your name. was intended to be more of AN Entertainment film. When he considered which kind of music to put into the film, Shinkai thought about what kind of music he would like to listen to just as much if not more than what would be artistically fitting for the film. He thought that if he worked with RADWIMPS, the film would be more interesting to watch because the themes in their music were similar to his films. When he asked RADWIMPS to come on board, they were delighted. They wanted to do the entire soundtrack and not just the theme song. And that's exactly what happened. 
Genki Kawamura, one of the other producers of your name., has said that the film is like a "best of Shinkai" compilation. Do you agree with that, or do you think that your name. brings something totally new to the table?
Ito: As Genki said, I think it does succeed at being a good "best of" compilation of sorts. As for the new elements in your name.… well, it's not that the fans who enjoyed Shinkai's earlier films were not bored with your name.It presents the material in a fresh way. People will get something new out of your name. As for what else is new… Hmm, well, it's a success, at any rate. (laughs)
Shinkai has expressed dissatisfaction with some parts of your name., saying that the film feels incomplete. Do you share his sentiments at all?
Ito:  Really? That's the first time I've heard of that. I've never heard him express any particular dissatisfaction, and I don't know where he made that statement. (laughs)   Was the film not completed when he said that?
ANN:  He did a lot of press in America for your name. I think he said that during a press junket. This was in December, so the film was done. I don't think he meant that it was literally incomplete. I think he just feels that way.
Ito: On the off-chance that he did say something like that, it's not strange that a creator would want to keep improving his works. From a producer's perspective, however, there isn't a single thing I'm dissatisfied with, since we do not let it released to the public without being satisfied with it. I think it's a great film. 
What is your opinion of the anime industry as it exists in Japan?
Ito: Personally, I don't have much interest in the anime industry. I just want to make interesting titles.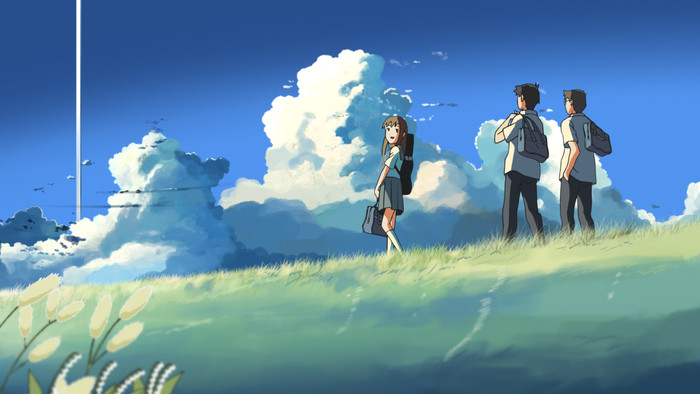 The Place Promised in Our Early Days (c) Makoto Shinkai/CoMix Wave Films
How much has CoMix Wave changed since you've started?
Ito: There are more people now. (laughs) Well, at the time I first joined, CoMix Wave didn't make animation. Somewhere along the line, I suppose it became an animation production company.
Sunami: Let me just add that if Ito didn't join the company, The Place Promised in Our Early Days would never have been completed. When he first joined the company, Ito asked, " who would be drawing all the backgrounds required for the film?  The film will require a thousand backgrounds".  Someone  answered,  "Well, maybe, Shinkai?". Then, Ito said, "Then, it would take him ten years to finish". Ito made sure everyone in the company got the picture, and on the very next day, he went to an art school to recruit people.
Ito: You are reminding me of the old days. Well, if I hadn't come in, there must have been someone else or an outside help joining in to complete the film, but  Shinkai might have gotten fed up and left CoMix Wave. (laughs
Sunami: As an indie creator, Shinkai knew a lot about making anime, but not much about the industry side. Ito was able to serve as a mediator between Shinkai and the production staff.
Will the success of your name. change or make the production process/cycle easier or more different in any way? Will you have more time? More budget?
Ito: The success of your name. was extremely fortunate for us, although there are some downsides too. The good news is that it'll be easier to request more in the budget. We can generate more money and recruit more staff, and it'll be easier to request permission for location filming. On the other hand, because your name. was too successful, the staff might adopt a non-committal attitude. (laughs) They might feel as if they can't screw up next time and not want to do it. The same pressures apply to new people joining the team. If they were asked to join and were put in a position like that, they might not accept. There are a lot of creators in Japan like that who take things very seriously, so it may well be the case that it'll become more difficult to recruit people for next time.
---
discuss this in the forum (2 posts)
|
this article has been modified since it was originally posted; see change history