Interest

Ayame Gōriki Stars in Live-Action Future Diary/Mirai Nikki

posted on by Egan Loo
---

Actress Ayame Gōriki will play the heroine opposite actor Masaki Okada in the live-action television adaptation of Sakae Esuno's Future Diary (Mirai Nikki) manga this April. In the story of Mirai Nikki -Another:World-, 12 young people come into the possession of Future Diaries in which their futures are written. The 12 are forced to play a survival game and kill each other off.
According to producer Ryōta Fujino, Gōriki will play Yuno Furusaki, a new "Yuno" reimagined from the manga's female lead character Yuno Gasai. Like the manga Yuno, the live-action Yuno is one of the Future Diary owners, and she has a one-sided, stalker-like crush on Okada's male protagonist character Arata Hoshino (Yukiteru Amano in the manga). Yuno invariably shows up wherever Arata goes, and her beauty, blind love for Arata, and eccentric behavior belies her true intentions.
After smaller roles in various projects such as the Thriller Restaurant film, Gōriki had her major break in the January 2011 live-action series Taisetsu na Koto wa Subete Kimi ga Oshiete Kureta. She has starred in six consecutive live-action television series — one for each season — ever since. Okada's other works include Hana-Kimi, BokuKimi, Otomen, Mahō Tsukai ni Taisetsu na Koto, and this May's Space Bros. (Uchū Kyōdai).
The new live-action series will be the first one to run in Fuji TV's 11 p.m. (specifically, 11:10 to 11:55 p.m.) timeslot on Saturdays in two years. Yūsuke Watanabe (20th Century Boys trilogy, Gantz, Bloody Monday) is scripting the series.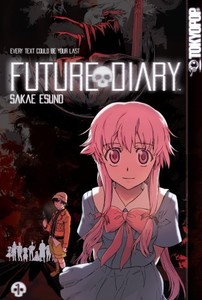 The manga has sold 4 million copies and inspired both a video anime project and a television anime series which premiered in October. Tokyopop published 10 of the 12 manga volumes before shutting down its North American publishing operations last May. Funimation and the video-streaming service Niconico are streaming the television anime series as it airs in Japan.
Source: Oricon via Moe Ota-News Sokuhō
---