Interest

Brothers Conflict Anime's Character Designs Unveiled

posted on by Sarah Nelkin
Reverse-harem romance anime to premiere in Japan on July 2
---
The official website for the Brothers Conflict anime revealed all of the character designs and profiles for the main cast of the anime on June 10: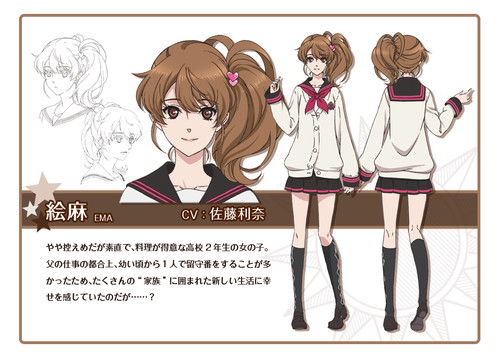 Rina Satou
(
A Certain Magical Index
,
Brave10
) plays Ema, a sweet and honest second year high school student who is good at cooking. Due to her father's work, she often had to watch the house alone, which is most likely the reason why she feels happy that she is surrounded by a family in her new life.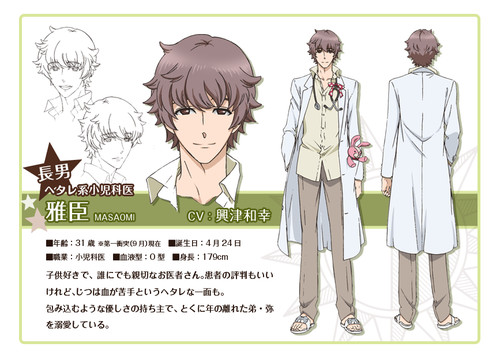 Kazuyuki Okitsu
(
Lagrange - The Flower of Rin-ne
,
Toradora!
) plays Masaomi, the incompetent eldest son of the family. The 31-year-old doctor is very kind, and loves children. Although his medical knowledge is plentiful, he is in fact very weak when he sees blood. He has a special bond with his little brother Wataru, although they are separated by 21 years of age.

Daisuke Hirakawa
(
Hiiro no Kakera
,
Neo Angelique Abyss
) plays Ukyō, the calm and reliable second son. The 28-year-old man holds the mother-like role in the household, cooking for his siblings and helping them study. The reason he is a bit talkative might be because of taking care of siblings with so many different quirks.

Junichi Suwabe
(
Bakuman.
,
The Unlimited - Hyōbu Kyōsuke
) plays Kaname, the womanizing third son. The 27-year-old man has a personality that makes him seem like a worker at a host club, but he is in fact a monk (although not too monk-like).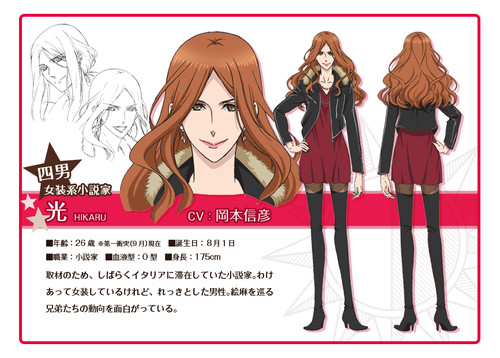 Nobuhiko Okamoto
(A Certain Magical Index,
Guilty Crown
) plays Hikaru, the cross-dressing novelist and fourth son. The 26-year-old lived in Italy for a time in order to gather materials for his work. It seems he is cross-dressing for a certain reason, but he is very respectable. He enjoys watching his other brothers' reactions around Ema.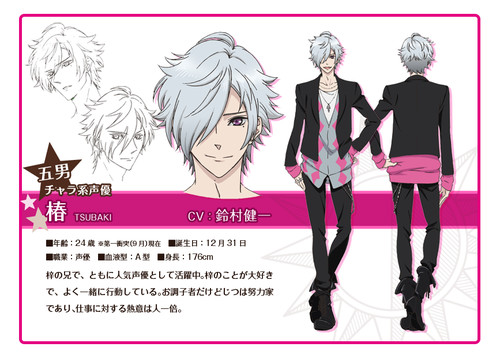 Kenichi Suzumura
(
Gintama
,
Heaven's Memo Pad
) plays Tsubaki, the flirtatious fifth son. 24 years old and the elder identical triplet brother of Azusa, Tsubaki works a popular
voice actor
. He loves Azusa, and they often work together. Although he is quite cheeky, he in fact works very hard at whatever he does, and no one can overcome his passion for his work.

Kousuke Toriumi
(
Pretear
,
Hakuōki
) plays Azusa, the cool sixth son. Also working as a voice actor with his identical triplet Tsubaki, he often has to calm down his brother with his calm personality. The only downside to his character is his lack tenacity towards things.

Tomoaki Maeno
(
Pretty Rhythm Rainbow Live
,
Sekai Ichi Hatsukoi
) plays Natsume, the salary-man seventh son. The 24-year-old salary-man at a game company is the fraternal triplet to Azusa and Tsubaki. He is currently living alone. He has a blunt way of talking, but is very good at looking after others.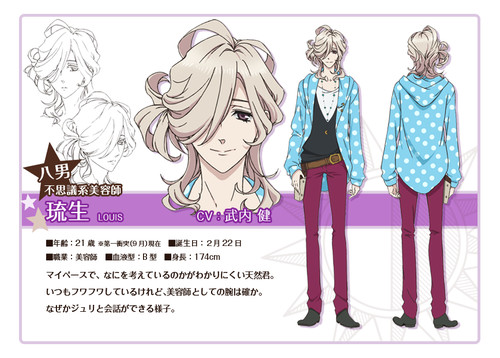 Ken Takeuchi
(
Green Green
,
Kiss×sis
) plays Louis, the mysterious, beautiful eighth son. It is always hard for others to know what the slow-paced, spacey 21-year-old is thinking. He always seems up in the clouds, but he has a sure hand as a hairdresser. For some reason, it seems that he can talk to and understand Juli.

Daisuke Ono
(
Black Butler
, Brave10) plays Subaru, the sporty ninth son. The 19-year-old is a sophomore in college and a regular member on the basketball team. As he has lived only knowing sports, he is unsure about how to deal with girls. He is very tense in front of Ema.

Daisuke Namikawa
(
K
,
Hunter x Hunter
) plays Iori, the prince-like tenth son. 18-years old and a senior at a prestigious high school, rumors Iori's prince-like existence are even heard by other schools. He is a gentleman to anyone he meets, and kindly accepts Ema into his family.

Yoshimasa Hosoya
(
Katanagatari
,
Inu X Boku Secret Service
) plays Yūsuke, the delinquent-like eleventh son. A classmate of Ema, he actually has a righteous personality that hates anything incorrect despite his delinquent-like sense of style. When Ema, the girl he had quietly always had a crush on, joined his family, he is unable to hide his confusion.

Kenn
(
Pretty Rhythm Aurora Dream
,
Yu-Gi-Oh! Duel Monster GX
) plays Fūto, the devilish twelfth son. The 15-year-old 9th-grader is also working as a popular idol. Due to his involvement in show business since he was small, he has a maturity far beyond his age, and often is very cheeky to Ema and his brothers.

Yuuki Kaji
(
Zakuro
, Guilty Crown) plays Wataru, the sweet thirteenth son. 10 years old and in 5th grade, Wataru acts exactly his age, being honest and spoiled. The reason behind this might be that he is coddled by all 12 of his brothers.

Hiroshi Kamiya
(
Nisemonogatari
,
Sayonara Zetsubō Sensei
) plays Juli, the talking squirrel. A mysterious squirrel that understands the human language, he calls Ema "Chii". For some reason, he can only talk to Ema and Louis. He has been with Ema since she was young, and is always on guard that the brothers don't make a pass at her.
Sylph magazine's original romance novel project centers around a girl who suddenly gains 13 stepbrothers — from 32 years old down to 12 years old — when her father remarries. She joins the Asahina family under one roof at the Sunrise Residence complex.
Jun Matsumoto (Night Raid 1931, Persona -trinity soul-) is directing the anime at the studio Brains Base (Baccano!, Natsume's Book of Friends, Durarara!!, My Little Monster). Natsuko Takahashi (07-Ghost, Moyashimon, Uragiri wa Boku no Namae o Shitteiru) is in charge of scripts, and Kumi Ishii (Oreimo, Red Garden, Rozen Maiden) is adapting the characters in Udajo's original illustrations for animation.
The anime will premiere on Japanese television on July 2.
---