Interest

Full-Size Macross VF-25 Valkyrie Shown in Yokohama

posted on

2013-08-17

21:00 EDT by Lynzee Loveridge
---
On August 9, broadcast station WOWOW placed a full-size VF-25 Valkyrie at Minatomirai station in Yokohama to commemorate the station's broadcast of The Super Dimension Fortress Macross.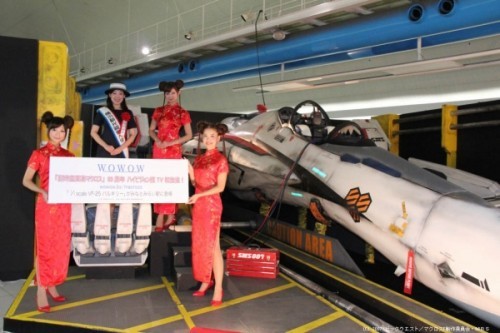 The popular TV anime series Macross is celebrating its 30th anniversary. WOWOW is showing the series' origin: The Super Dimension Fortress Macross and movie Macross: Do You Remember Love? in high-definition television broadcast for the first time.
The nine-meter wide (about 30-feet) and 10-meter (33-feet) long full-size variable fighter VF-25 Valkyrie is on display at Minatomirai station in conjunction with the broadcast.
The display was overseen by Macross mechanical designer Shoji Kawamori and Macross Frontier mechanical artist Hidetaka Tenjin. The model is displayed on a repair dock from the series. Visitors can see the model until September 2.
Links:
Macross Museum with Life-Size VF-1 Cockpit Previewed in Video
RingLife-Size VF-25, Stage Musical Celebrate 30 Years of Macross
Courtesy of
---