Interest

5 Neat Things to Pre-Order This Week (Nov. 13)

posted on by Bamboo Dong
More Madoka stuff, a 1970s kickback to Ultraman, some Free! figures, and Gurren Lagann packing tape.
---
Here's some of the neat, cool, cute, or otherwise interesting things you could pre-order this week.
1. Madoka Magica Petan Musume (Lawson ver.) Figures

These ridiculously cute Madoka Magica Petan Musume figures feature Madoka Kaname or Homura Akemi dressed up in the iconic blue and white-striped uniforms of the Lawson's convenience store chain. They're selling for ¥2,730 ($28) and are expected to ship March 2014.

If cute girls dressed in striped dresses aren't your thing, you could also get your hands on this terrifying Kyubey mascot strap that depicts a very specific scene from the series. The item description says it's a holder for your earbud cord, but hey, use it for anything that needs a cute/horrifying image of Kyubey with holes in him. It's selling for ¥683 ($7) and will ship in December.
3. Vintage-Styled Ultraman Pins

Premium Bandai is bringing back a set of 65 Ultraman pins originally given out in 1971 by the now-defunct Shogakukan Grade Comics magazine. The set also comes with a reproduction of the collector's page that was distributed at the time. It's selling for ¥28,000 ($281) and is expected to ship in December.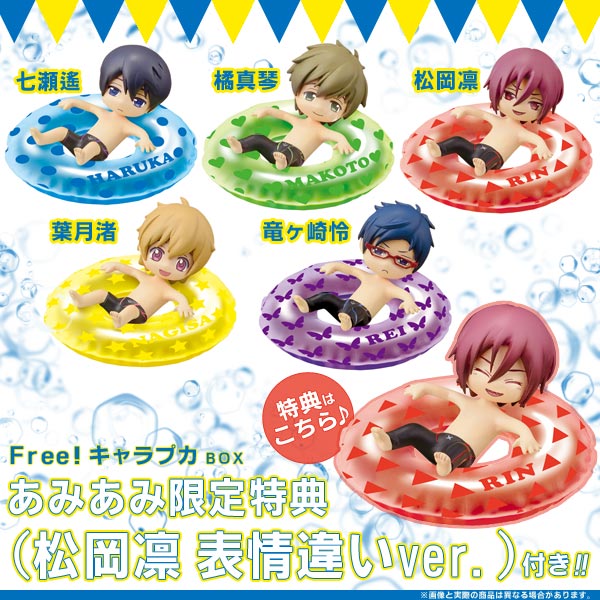 Relax vicariously through the boys from Free! who are taking a break from their training schedules to chill out in their color-coordinated inner tubes. And, if you order from AmiAmi, you'll get an extra Rin figure with an alternate facial expression. Somehow Rei doesn't look too excited about it.
This set is selling for ¥4,050 ($41) and is expected to ship in February 2014.

Make holiday gift wrapping 500% cooler with this Gurren Lagann packing tape, designed to look like the episode titles from the TV series. It's selling for $13.50, with a ship date of December.
---