Interest

5 Neat Things to Pre-Order This Week (Nov. 20)

posted on by Bamboo Dong
Madoka Magica perfume, Attack on Titan pop-up pirates, Free! merch, Sailor Moon earphone jacks, and the world's most frustrating Gundam puzzle.
---
1. Attack on Titan Pop-Up Pirate

More fun than a barrel of monkeys! This Colossal Titan "pop-up pirate" won't sit pretty behind his wall if you keep sticking Erens into him. Poke him in just the right place and he'll pop out, terrifying everyone in the near vicinity, but mostly your cat.
Made by Takara Tomy, this toy is selling for ¥2,625 ($26) and will be released March 28, 2014. It's recommended for ages 15 and up, but the key phrase there is and up.

Bedazzle your phone with these Sailor Moon power stick earphone jacks! They come in a set of five, so you can swap them out based on your mood, or share them with your four closest buddies. You can even take it one step further and get these Sailor Moon smartphone or iPad Mini cases.
You can buy the set for ¥3,990 ($40), with an expected ship date of February 2014.
3. 1000 Pc Mobile Suit Gundam Zaku Puzzle

For the puzzle lover in your life who seems to have infinite patience assembling puzzles. This one seems not only difficult (it's even called a "Super Difficult Puzzle"), but enough to drive one into madness. But hey, it's only $18, and it'll ship in time for the holidays.

Smell like your favorite magical girl with these Madoka Magica perfumes from Movic. Fans can choose from Madoka (top notes of bergamot; middle notes of rose, mimosa, and violent; base notes of musk and vetiver), Mami (fruity, with hints of vanilla and white musk), and Homura (minty, with notes of lavender and rosemary)
Each one sells for ¥4,200 ($42) and will ship in December.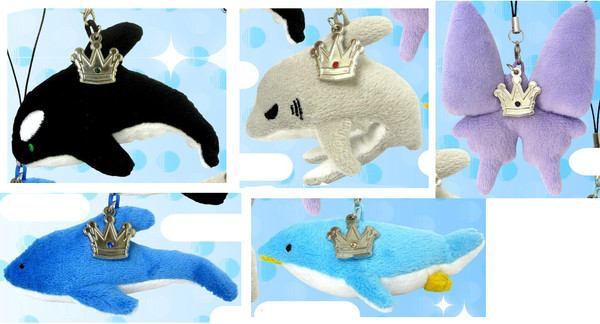 Unleash your spirit animal with these Free! plush keychains, one for each main character. It's especially amazing when you consider that everyone gets an aquatic animal except Rei, who is a butterfly. Naturally.
Each keychain is selling for $12.99. And actually, they're already in stock, so you can buy them now for that almost-instant gratification.
---