Interest

Authenticate Your KanColle Wedding with Ring, Certificate, Picture

posted on by Eric Stimson
Make your in-game wedding feel more like a real one
---
The popular online card game Kantai Collection (or KanColle for short) now lets you marry your battleship girl if she's reached level 99. This feature extends the normal level cap of 99 to 150 and improves your battleship's stats. It's a gameplay mechanic introduced as a bonus on Valentine's Day, but Ensky Shop has some items to help make players feel like they're actually married to their battleships.

For ¥15,000 ($145), you can get one of these silver wedding rings. Choose from one of three designs:

"Mark," which has two grooves across the ring reminiscent of the flotilla bands painted on World War II-era battleships;

"String," with a design that evokes the visible red strings woven into shrine maidens' clothing;

... or "Sailor Tape," with two grooves around the ring that resemble the lines on sailors' uniforms.
The ring will come stored in this case.

In addition, you can get a 5 x 7-inch "photograph" of your new bride. For now, only KanColle characters introduced before December 24 are available.

You'll also get a guarantee of authenticity and a wedding certificate ("In witness stated, we declare here with our getting sacred in marriage.") The wedding certificate can be mounted with the photograph.



Finally, for an extra ¥3,000 ($29), you can get something inscribed on the ring. You can only choose from the Roman alphabet, Arabic numerals and the special characters ♡☆&/. The maximum number of characters allowed is 20.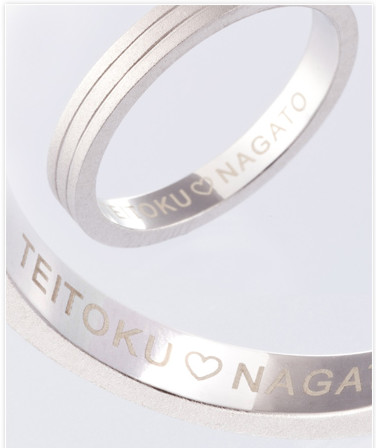 [Via Saitama Shuho]
---