×
remind me tomorrow
remind me next week
never remind me
Subscribe to the ANN Newsletter • Wake up every Sunday to a curated list of ANN's most interesting posts of the week.
read more
Interest

Foreign Animators in Japan Weigh in on Industry Conditions Part 3: Yann Le Gall

posted on by Lynzee Loveridge
In the last few months, discussion has turned to working conditions in Japan's animation industry. Veteran animator Sachiko Kamimura commented that animators sometimes earn as little as 120 yen an hour. An American animator working in Japan shared his own experiences, calling the conditions an 'illegally harsh' industry.
The Japanese government's Agency for Cultural Affairs, along with the Japan Animation Creators Association (JAniCA), conducted a new study of the working conditions, average income, and working hours of new animators in the Japanese animation industry. The study found that young animators work an average of 11 hours every day, and in-between (dōga) animators — many of whom are in their 20s — earn a yearly income of around 1.1 million yen (around US$9,200).
Others have stated that these experiences are anecdotal, and that the instability and wages do improve with time. In the mean time, a program to provide housing for low-income animators is attempting to ease some of the difficulties.
Anime News Network reached out to other foreign animators living in Japan to discuss their experiences, wages, and how they made ends meet while living separate from their families and possibly speaking little to no Japanese. We spoke with French animator Cedric Herole, background artist and background art director Scott MacDonald, and art designer Yann Le Gall for a series of three interviews.
Yann Le Gall
Q: When did you first start working in the anime industry in Japan?
le Gall: I started working in Japan in October 2008, as a layoutman/line background artist for a show called Basquash!.
Q: What was your first animation project?
le Gall: This show was originally created by Shoji Kawamori and Thomas Romain, a French creator who was in charge of the art direction, mostly the background part. He wanted to have a small team of French artists to work on the project with him, since the art style was pretty unique compared to Japanese standards.
So I applied, flew to Japan and started to work at Satelight. I couldn't speak Japanese at all at that time, but it wasn't mandatory for the job. Since Thomas Romain was supervising my work and he could take care of all the translating.
Q: What was it like working on that project? What were the time constraints at the time?
My salary was pretty comfortable, really enough to afford more than a decent lifestyle. But, as one would expect, we really had to work a lot. During the last six months of production we were working between 12 and 14 hours, sometimes 16 hours a day. Six days a week. Well, on Saturday evenings we could finish a bit earlier than usual.

Q: Are your current working conditions the same as when you first started?
le Gall:After that first year working on Basquash!, I worked for a short period of time at Ankama Japan. This is a French company based in Japan, but the animation department has been shut down since. As it was a French company, the working conditions were basically the same as in France: around 7-8 hours of work a day with a decent salary.
Then I went back at Satelight to work again with the "French team," as our Japanese coworkers like to call it. It's headed by Thomas Romain and Stanislas Brunet, a French mecha designer. This time I wasn't a layoutman but a background designer. We then started to work mostly on the pre-production of various Satelight TV shows.
Working on the pre-production with a creative position means a better salary, and lighter schedules since we still have a lot of time before the show is broadcast. Thanks to the experience gained on Basquash!, I felt more comfortable with drawing backgrounds, and I was able to draw better and faster. We were usually working 8 to 9 hours a day, sometimes 10 hours on the busiest days. Nothing compared to the time we were working on Basquash!
I kept on working as a designer in Satelight for about two years. Then I decided to quit and go back to France at the end of 2011.
After I left Japan and the anime industry, I tried to somehow keep a foot in the business.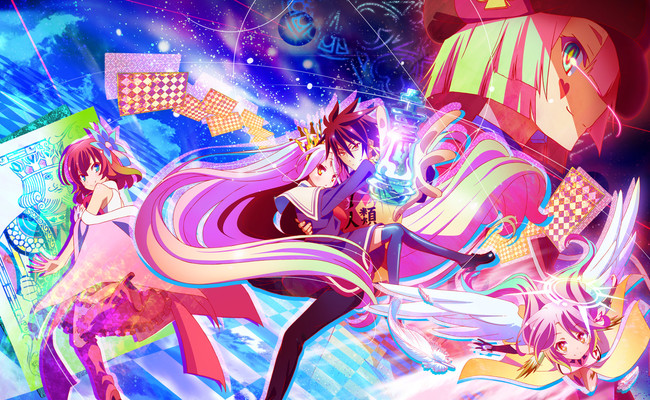 Q: Do you do any other jobs at the same time as animating to help with expenses?
le Gall: From France I had the chance to work for Mad House as a freelance designer for the show No Game, No Life in 2013. I was dealing directly with the director and producer via mail and Skype. This time again I had long deadlines. In fact, they never really mentioned them, but I was doing my best to complete the designs as quickly as possible. The salary was lower compared to Satelight. As a freelancer I was paid by drawing at a very basic rate, not by day of work. But I could work for other more lucrative projects at the same time so It wasn't really troublesome.
Then in 2014 I worked with the French-Japanese studio Yapiko Animation, but then again the working conditions were quite different, and it wasn't for a Japanese anime show.
Now in 2015 I'm getting ready to head back to Japan, since I kind of miss living and working there!
Q: What keeps you within the industry?
le Gall:All things considered, I think I was pretty lucky to have such a variety of working experiences and good working conditions most of the time. And thanks to my contacts I never really struggled to find work.
I do believe it's possible to work in Japanese anime industry with a decent lifestyle, especially if you are aiming for creative jobs like design, if you have enough skills to make good drawings quickly, or if you can bring any technical or artistic value to a project that Japanese staff could hardly obtain by themselves. Like some unique personal design or color direction, or some good skills in CG animation.
---
follow-up of
Foreign Animators in Japan Weigh in on Industry Conditions Part 2: Scott MacDonald