×
remind me tomorrow
remind me next week
never remind me
Subscribe to the ANN Newsletter • Wake up every Sunday to a curated list of ANN's most interesting posts of the week.
read more
Interest

Studio Ghibli Continues Animation of Chōjū Giga Scrolls With 3rd Ad

posted on by Rafael Antonio Pineda
Totoro
studio animates animals in 800-year-old "manga" to promote power company
---
Studio Ghibli animated the famous Chōjū-Jinbutsu-Giga Emaki ("Scrolls of Cartoons of Birds, Animals, and People" or "Chōjū Giga" for short) for a third and final Marubeni Power commercial that debuted in Japan this week. In the video, titled "The Journey Continues," the rabbit runs away from the frog in tears as it begins to rain, only for the frog to return to the rabbit, with a lily pad umbrella in tow.
In the first ad "Encounter," a frog and rabbit meet during a torrential rainstorm:
In the second ad "Balance," the frog and rabbit join forces to cross a deep river:
The three commercials promote Plan G, a new electric power option that Marubeni Power is offering to homes as Japan deregulates its power industry. The plan derives its name from both "Ghibli" and "green." Plan G promises to support the national trust for "Totoro's Forest," provide power for the Ghibli Museum, and promote conservation in general. Studio co-founder Hayao Miyazaki and other studio members have been avid opponents of nuclear power, particularly after the Great East Japan Earthquake disaster (Higashi Nihon Daishinsai) of March 11, 2011.
Katsuya Kondo, a character designer and animation director for Miyazaki's Kiki's Delivery Service and Ponyo films, was in charge of these commercials. Acclaimed pianist Nobuyuki Tsujii created the background music, and the tagline at the end reads, "There is a Japan I want to leave behind for future generations." The voice who utters the company's Japanese name "Marubeni Shin Denryoku" at the end is Studio Ghibli's own producer Toshio Suzuki. Suzuki had revealed that Ghibli would work on three commercials in the campaign.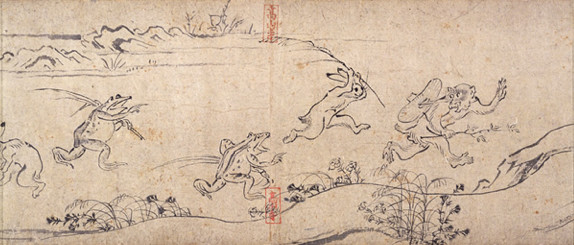 The Chōjū-Jinbutsu-Giga Emaki scrolls are national treasures at Kyoto's Kōzan-ji temple, and they are familiar to nearly every Japanese child, thanks to history textbooks throughout the country. The scrolls depict, via anthropomorphized animals, life as it was about eight centuries ago between the Heian and Kamakura periods. Scholars have debated whether these scrolls or another scroll, the Shigisan ENGI Emaki, are the "first manga" in history.
Suzuki said that both Miyazaki and Ghibli co-founder Isao Takahata have enjoyed the scrolls. Takahata in particular wrote a book about emaki scrolls in general and drew inspiration from them for his most recent movie, the Oscar-nominated The Tale of the Princess Kaguya.
---