Interest

Player Collects 900 Korok Seeds in Zelda: Breath of the Wild to Receive Smelly Gift

posted on

2017-03-16

17:45 EDT by Jennifer Sherman
Overachieving gamers have already completed The Legend of Zelda: Breath of the Wild in 84 minutes, 60 minutes, or even faster times. Painstaking players have also discovered fun surprises like a character that speaks to Link in baby talk when he fails to understand an explanation. Reddit user xFateAwaitsx posted another interesting discovery on Tuesday.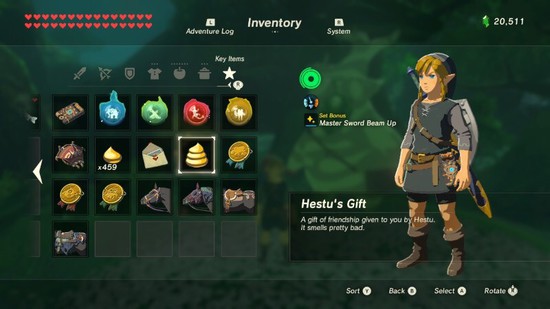 In the game, players can collect Korok Seeds and return them to Hestu for upgrades to Link's weapon, bow, or shield inventory. xFateAwaitsx collected all 900 Korok Seeds in the game and received Hestu's Gift in return. As Internet commenters have been quick to note, the item looks like a pile of golden poop. The in-game description says the reward is a "gift of friendship" that "smells pretty bad." The item description for Korok Seeds in the game notes their "distinct smell," and they look similar to the top of Hestu's gift. Link may be carrying around poop for the whole game without knowing it.
The apparently useless prize of Hestu's Gift took xFateAwaitsx about 172 hours of total gameplay time to receive. The final Korok Seed alone apparently took "a good hour or two" to locate. For xFateAwaitsx's sake, hopefully someone will discover a function or purpose for Hestu's Gift.
Kotaku contributing editor Luke Plunkett suggested Hestu's Gift might be Nintendo's commentary on the futility of collecting useless items in video games. He also suggested it might grow into a money tree if players plant it in DLC. The Japanese name for the Hestu's Gift is "Hestu no Mi" (Hestu's Seed), so perhaps players will find a way to make it sprout. (The word "mi" can have several meanings, but it probably means "seed" in the context of the game.) On the other hand, the excrement-like gift may be a cultural reference to golden poop that appears as trinkets for purchase in Japan.
What is your theory? What do you think of Hestu's Gift? Tell us in the forum!
[Via Hachima Kikō, Kotaku]
---