Interest

Manga Artists of Detective Conan and Chihayafuru Team Up with Collaborative Illustration

posted on by Amanda Whalen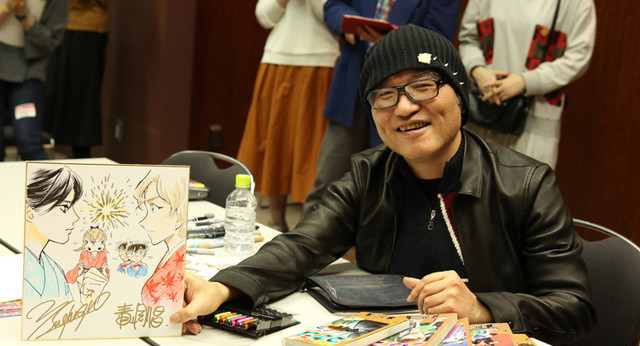 In order to celebrate the release of the new Detective Conan film Meitantei Conan Kara Kurenai no Love Letter (Detective Conan: Crimson Love Letter), which opens on April 15, manga artist and original creator of the series Gosho Aoyama teamed up with manga artist Yuki Suetsugu (Chihayafuru) to create a collaborative illustration.
The upcoming Detective Conan film introduces a new character, Momiji Ōoka, who is a high school carta champion, and Suetsugu's manga Chihayafuru is about a high school girl who wants to become a pro carta player, so the two manga artists talked a bit about that connection. Carta is a Japanese card game using cards with classical poems printed on them.
Suetsugu said, "After seeing the teaser visuals, my fans were very vocal about it, saying, 'Hey, Conan's using carta? Sensei, this is crazy!' and getting very excited, so I've been looking forward to it."
Aoyama, who is apparently a big fan of Suetsugu's Chihayafuru, said of the new Detective Conan character's name, "Momiji comes up frequently in the poems on carta cards, doesn't it?...Maybe Suetsugu-sensei wanted to use it. Sorry about that!" In response, Suetsugu laughed and said that it was quite alright.
Speaking of the inclusion of carta in the new Detective Conan film, Aoyama said, "There's a kind of mystery you can only get with carta cards." Suetsugu asked Aoyama whether it had been his idea to include carta in the film, and he responded, "Yes, it was [my idea]. Because I like Chihayafuru."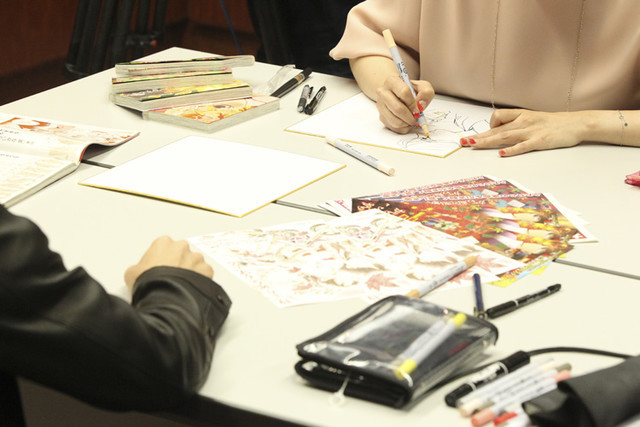 Together, Aoyama and Suetsugu drew a collaborative image of the characters Momiji and Conan from Detective Conan and Chihaya and Shinobu from Chihayafuru. Suetsugu drew her portion without doing any preliminary sketching, and in response to this Aoyama said, "I always draw a rough sketch first...Now I'm nervous. That's incredible."
Speaking of Detective Conan, Suetsugu said, "I want [Conan] to hurry up and settle down with Ran. But if that happens then the story will end, so I'll just have to be patient."
After they finished the collaborative drawing, Suetsugu said, "I'm looking forward to your new movie very much," and Aoyama said, "I'm looking forward to Chihaya and Shinobu's battle for [carta] queen."

The Chihayafuru anime aired for two seasons, premiering in 2011 and 2013. It was streamed by Crunchyroll and licensed by Sentai Filmworks last year. The manga is currently ongoing.
Source: Natalie Comics
---