Interest

Bored College Student Accidentally Infects Self, Others with Touhou Project-inspired Ransomware

posted on by Amanda Whalen

A bored Korea-based college student released a Ransomware game based on the popular dōjin shooter video game franchise Touhou Project on GitHub as a joke, and he woke the next morning to discover that the malware had spread.
The malware, which he called Rensenware, locked users' files until they scored 0.2 billion or higher on Lunatic Mode in the 12th game in the Touhou Project series, Touhou Seirensen (Unidentified Fantastic Object), which was released at Comiket 76 in April 2009.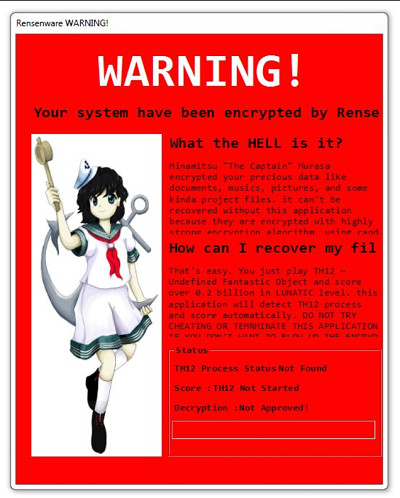 After the inadvertent spread of the joke malware, the creator said, "I realized that it [had] become a huge accident and [was] confused." The creator also realized that he had infected his own computer as well, and when asked if he could score over .02 billion on Lunatic Mode, he answered, "Uh, oh…. nope."
The incident was resolved after the creator quickly designed software to neutralize Rensenware and uploaded it to GitHub along with an apology, saying, "I'd like to apologize [to] everyone for making [them] shocked, or annoyed. Ransomeware is definitely a kind of highly-fatal malware, but I made it. I made it for [a] joke, and just laughing with people who like Touhou Project Series."
The most recent installment in the Touhou Project series, Legacy of Lunatic Kingdom, was released in August 2015 at Comiket 88. The next installment, Antinomy of Common Flowers is anticipated for release sometime this year.
Source: Kotaku
---