×
remind me tomorrow
remind me next week
never remind me
Subscribe to the ANN Newsletter • Wake up every Sunday to a curated list of ANN's most interesting posts of the week.
read more
Eric Khoo
by Andrew Osmond,

As the Singapore animated film Tatsumi is playing in U.K. cinemas, based on the manga of pioneer artist Yoshihiro Tatsumi, I interviewed the film's director Eric Khoo about bringing Tatsumi's life and work to the screen. Formerly a comic artist himself, Khoo's other films include the live-action Mee Pok Man and 12 Storeys. Tatsumi is Khoo's first animated feature; if we're to believe what he says in the interview below, it will also be his last.

In the press notes for the film, Khoo explains, "I had to make a tribute film to Mr. Tatsumi because he had such a profound influence on me when I was a Young Comic artist before I became a filmmaker... Not only is Yoshihiro Tatsumi a consummate storyteller, he is also a brutally astute and honest observer of love, life and the human condition. And these observations remain as haunting and disturbing today."

Tatsumi is currently playing in London's ICA and Curzon Soho cinemas, and in the Filmhouse in Edinburgh. For more details, see this news story, as well as this review of the film.

You have said that the first time you met Mr. Tatsumi was in a coffee shop. What that experience like?
It was in the basement of an old smoky cafe called Sabour where a lot of student activists used to hang out during the 1960s. The neighbourhood is filled with second-hand book shops and Yoshihiro Tatsumi's office is located there. I was pretty nervous initially but when we started talking through a translator I felt a very good vibe from Tatsumi-sensei. He felt more comfortable when he saw my note pad and discovered I am a cartoonist as well. He looked through my sketches and boards on how I perceived the film, and he was rather pleased. After three hours of coffee and beers he gave me his blessings.
How would you describe Mr Tatsumi's personality?
Extremely intelligent, creative and he has a lot of wit in a deadpan kind of way. Honest, sensitive with a beautiful soul. A lovely, warm, yet tragic figure. His stories blew me away decades ago. Today I would say I have never read a short that comes close to the power of "Goodbye." ["Goodbye" is the final Tatsumi strip adapted in the film.]
How did you go about adapting his manga?
As I and the head animator, Phil Mitchell, discussed, we would never add anything beyond the panels of Tatsumi, though we could edit out his panels. So we just had to bring his drawings to life, but always stay close to his style and feel.
Do you think there is any difference in the effect of disturbing images in a manga, and the effect of the same images animated on a cinema screen?
Initially Tatsumi-sensei was very concerned with the sex scenes in the story "Goodbye" and wanted the images to be static. I argued with him for quite a while. Finally I shortened them and cranked in for tighter framing.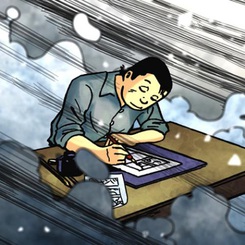 Did any of the film's artists take research journeys to Japan, to look at locations represented in the film, such as Ueno Zoo and the Yasukuni Shrine in Tokyo?
The artists watched early Ozu films for the colour reference to be used in the Drifting Life sections [the framing scenes about Tatsumi's life, which are taken from his 800-page manga A Drifting Life.] They watched hours of Japanese stock footage from that period, including Ueno Zoo, which hasn't changed that much. We didn't have the budget for them to travel to Japan.
The film includes some brief glimpses of Mr Tatsumi's graphic novel Black Blizzard. Would you ever consider animating Black Blizzard in a separate film?
I would love to watch that too but I have decided that this will be my first and last animated film.
Do you think any of the situations in the film have a particular resonance for Singapore society? Or are Mr Tatsumi's stories simply 'universal'?
They're timeless and universal gems. I guess a lot of Singaporeans can identify with the character in "Beloved Monkey." ["Beloved Monkey" is the second short story in the film, about a factory worker in Tokyo].
Are any Japanese manga or anime titles popular in Singapore?
The popular manga books will be the cheap ones aimed at kids like Death Note. You'll find the Osamu Tezuka books alongside Tatsumi's at specialised comic shops but they are really expensive - almost like good wine versus cheap beer. However, there is a following and a friend of mine is releasing a new compilation of Tatsumi's works from the late '70s which have never been translated into English before. There is an amazing story in there, about a robot looking after an old dying woman!
Thanks to Elizabeth Benjamin, Varun Kanish and Fong Cheng for making this interview possible.
---
discuss this in the forum (1 post)
|