News

Hello Kitty MMORPG's Closed Beta Now Accepting Players

posted on by Egan Loo
Free
Hello Kitty
Online game to officially launch in second half of 2008
---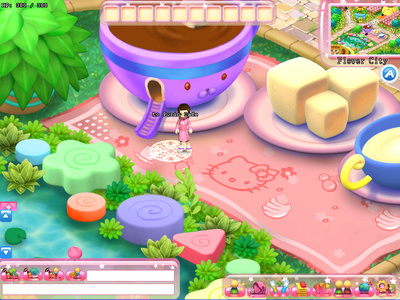 Not-So-Daily Link of the Day: Sanrio has announced today that its Hello Kitty Online massively multi-player online role-playing game (MMORPG) is accepting players for a closed beta test. Players can explore Flower Kingdom, Tokyo, Paris, Moscow, and other locales populated by non-player Sanrio characters such as Hello Kitty herself, Badtz-Maru, My Melody, Kerropi, Pochacco, Purin, Muffin, and Scone. Typhoon Games has been developing this free game, which is scheduled to officially launch in the second half of 2008. While the game emphasizes an "engaging social aspect centered on the magical and cute online world of Hello Kitty," it will also include standard genre features such as customizable avatars, guilds, skill systems, and player economy. Although it will have a "sophisticated combat system," there is no mention of PKing.
The online game joins a crowded field of gaming communities with significant numbers of females in their pre-teens to twenties, such as Gaia Online, Maple Story, Ragnarok, RuneScape, and Neopets. However, Sanrio bills its game as "the first installable MMORPG to set its sights on this demographic profile." The game will be tied to SanrioTown.com for out-of-game interactions between players and sales of upgrades for the in-game characters.
Hello Kitty has been animated several times over the years, and veteran Japanese voice actress Megumi Hayashibara (Ranma ½'s female Ranma, Evangelion's Rei) has played her in almost all of them. ADV Films released English-dubbed versions of some of the videos. Hello Kitty's stablemate Cinnamon (Cinnamoroll in English) just opened his own Cinnamon the Movie anime in December. Sanrio is also attempting to expand beyond its traditional female audience by selling Hello Kitty apparel to men in Japan.
Image © 1976, 1988, 1990, 1989, 1993, 1996, 1998, 1999, 2002, 2007 SANRIO CO., LTD. All rights reserved.
---