News

Kadokawa Cans Japanese Haruhi Suzumiya Dōjin Game (Updated)

posted on by Egan Loo
Unauthorized game had Haruhi characters in Dynasty Warriors style gameplay
---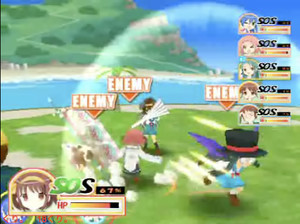 The souvenir circ. dōjin group has announced that it has ceased distribution of its Suzumiya Haruhi no Gekitō (The Fierce Fighting of Haruhi Suzumiya) action game in Japan at Kadokawa Shoten's request. The unofficial game has the characters in the Haruhi franchise's SOS brigade fighting each other in gameplay similar to KOEI's Dynasty Warriors franchise. (It also has character cameos from another Kadokawa comedy franchise, Lucky Star.) Kadokawa Shoten is the publisher of Nagaru Tanigawa's original Haruhi Suzumiya science-fiction comedy light novels and later manga, as well as the distributor of the anime version and an upcoming game for the Nintendo Wii console.

Kadokawa previously requested that another dōjin circle, ClassiC, cease distribution of an unauthorized Keroro Gunsō (Sgt. Frog) puzzle game called Otoshimasu in 2004. Kadokawa has been one of the Japanese companies that has requested Google's YouTube video-sharing service to take down unauthorized videos of its material, although it has since said it will open a YouTube channel with its drama series, anime, and other content. Crypton, the makers of the Vocaloid vocal music synthesizer and its Miku Hatsune idol mascot, asked the Ejin Kenkyūsho and Murder Kōbō dōjin circles to cease distribution of their unauthorized Tatakae! Ore no Hatsune Miku ver.1.2 (Fight! My Miku Hatsune ver. 1.2) fighting simulation adventure game two weeks after its January 25 release.
Source: Canned Dogs
Update: Hideki-Motosuwa notes that Suzumiya Haruhi no Gekitō is less like the Dynasty Warriors third-person 3D crowd-combat fighting game franchise and more like the Power Stone third-person 3D arena fighting game franchise.
---
This article has a follow-up:
Miku Hatsune Virtual Idol Dōjin Game Approved
(2008-02-23 23:58)