News

Japan's Anime, Game Studios Celebrate April Fool's Day

posted on by Egan Loo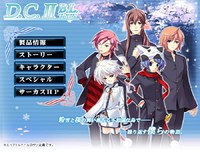 It is already April 1 in Japan, and the anime and software studios have been marking the occasion with a slew of April Fool's spoofs and jokes. The Moon Phase website has been
compiling
a list of them, and so
has
its anonymous tip blog Moon Phase Comments. The
Canned Dogs
,
Akihabara Channel
, and
Heisei Democracy
blogs have posted lists in English. Among the notable April Fool's entries this year:
• In a spoof of the official Lucky Star brunch and shrine
visit
, the Seventh Expansion developer has
announced
a Higurashi no Naku Koroni Kai shrine visit in "June 3008." For a mere 3 million yen (about US$30,000), a total of 0 attendees can visit the shrine to try Rika's mysterious drink and the Sonozaki family's house-recipe soy sauce, view the collection of a certain creepy freelance photographer, and participate in a festival.
• The Circus game developer (D.C. ~Da Capo~) has
announced
the bishō
nen
game D.C. II B.L.: ~Da Capo II~ Blue Label (pictured above).

• The Nitroplus
studio
(Blassreiter, Demonbane) has
announced
the Miracle Mirai "heartful" romantic adventure game
starring
the Mirai-chan mascot of Danny Choo's
blog
.
• Eiga.com
advertises
the Nico Nico Douga preview of a new movie: Honey and Cloverfield.
• Yahoo Japan has been taken over by Space Invaders (with a playable online
version
of the arcade game classic).
---
back to Daily Briefs
News homepage / archives