News

Macne Nana Virtual Singer Offered to Mac Users

posted on by Egan Loo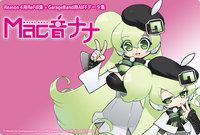 The Mac Fan magazine for Mac computer users has released a collection of voice samples that the magazine used to create its ongoing Macne Nana virtual singer project. As part of its Haruna Ikezawa's Tensei Himego feature, the voice actress Ikezawa (Keroro Gunso's Momoka Nishizawa) recorded the 50 phonetic moras of the Japanese language in both a "regular voice" and a "child's voice." Users of Garageband, Apple's Mac OS X desktop music (DTM) software, can apply the voice sample data of the 980-yen (about US$10) Macne Nana Petit version to synthesize vocal songs. The regular 2,980-yen (about US$31) Macne Nana version can be used on either Garageband or the Mac OS X and Windows versions of the Reason 4 DTM software. A sample song has been posted on the YouTube video-streaming website.
Another company, Crypton Future Media, has released a standalone voice synthesizer based on YAMAHA's Vocaloid software engine in three character packages: Hatsune Miku (voiced by Saki Fujita), Kagamine Rin and Len (Asami Shimoda), and Megurine Luka (Yuu Asakawa). The musician and occasional anime voice actor Gackt lent his voice to Gackpoid, a separate spinoff from the Vocaloid vocal music synthesizer that SSW's Internet software company developed.
Source: Dannychoo.com
---