News

Fender Guitar Maker's Blog Comments on K-ON! Anime

posted on by Egan Loo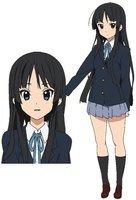 Hideki Maie, a staffer at the guitar maker Fender, posted an April 10 blog entry on his company's official Japanese website about watching the K-ON! anime series. This adaptation of kakifly's manga about a struggling high school light music club had premiered the previous week. Maie noted how the bassist character Mio Akiyama is using a specific Fender bass guitar model (a left-handed American Vintage Series '62 Jazz Bass) and how "moe" the anime is.
In a April 21 entry, Maie also noted that the appearance of a lefty bassist character invokes the images of former Beatles member Paul McCartney, Slipknot bassist Paul Gray, and John Coltrane's collaborator Earl May. He then joked that the anime's Sakura-Kō Keionbu (Sakura High School Light Music Club) can play a concert at the world-famous Nippon Buddōkan arena, although he recommends that they use the Fender TB-1200 Head unit with a 810 Pro Cabinet for optimum bass.
Source: Canned Dogs blog
---