News

Eagle Talon's 3rd Film, New TV Series Green-Lit (Updated)

posted on by Egan Loo
Frogman's Flash-animated comedy aims to have 10,000 voice actors in credits
---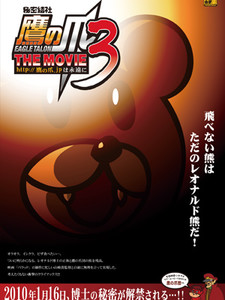 Eagle Talon The Movie 3, the third film based on the Flash-animated Himitsu Kessha Taka no Tsume gag comedy television shorts, has been green-lit along with a new October television series. The film's full title — complete with an actual working website URL — is Himitsu Kessha Taka no Tsume The Movie 3 ~http://鷹の爪.jp wa Eien ni~ (Secret Society Eagle Talon The Movie 3: http://TakanoTsume.jp is Forever). The title takes advantage of a little used update to the Internet domain naming system which allows non-alphabetical characters in website URLs. The film will open in Japanese theaters on January 16, 2010.
The animator FROGMAN originally became popular with Japan's first 30-minute Flash-animated television program (titled appropriately enough, The Frogman Show) in 2006. He has since animated the Eagle Talon The Movie franchise, Pyu to Fuku! Jaguar ~Ima, Fuki ni Yukimasu~, and other alternative fare. He also produced Japanese promotional materials for the live-action Watchmen film and Heaven's Door, the first live-action feature from Tekkonkinkreet director Michael Arias.
The third Eagle Talon film is aiming to have Japan's largest credited voice cast by asking 10,000 fans to submit recordings of them yelling "Ta-ka-no-Tsu-me!" The recordings will be spliced together into a giant chorus scene in the film, and all 10,000 fans will have their names listed in the ending credits.
Source: Cinema Today
Image © Secret Society Eagle Talon The Movie 3 Production Committee
Update: The new television series will premiere on October 8 at 26:40 (effectively, 2:40 a.m. the next day) under the name Himitsu Kessha Taka no Tsume: Countdown (Secret Society Eagle Talon: Countdown). The series will also include another of Frogman's work, Kofun Gal Coffey Campus Life. Source: animeanime.jp
---