News

Danish Museum Holds Controversial Manga Exhibit

posted on by Jacob Browning
Critics protest sexual depictions of fictional children; curator encourages debate
---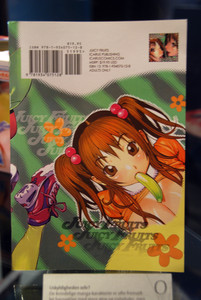 Protesters are seeking to ban a manga exhibition that is opening this week in a Danish museum due to its depiction of fictional children in a sexual manner. The gallery opened at Kunsthallen Brandts' media museum in the city of Odense. It contains erotic manga such as Tarō Shinonome's Swing Out Sisters, Kondom's Bondage Fairies, Tuna Empire's The Spirit of Capitalism, Kengo Yonekura's Pink Sniper, and Yumisuke Kotoyoshi's Juicy Fruits.
The Danish Psychological Association and members of the Social Democrats party have spoken against the exhibition. Christian Hviid Mortensen, the curator of Kunsthallen Brandts, said no pictures show explicit sexual acts, and the point of the exhibition was to encourage a debate and question the power of media.

"I have to admit that I myself was shocked at how extreme this genre is, and how deranged the imaginations are in this universe," Mortensen said according to The Copenhagen Post newspaper. "But we're not showing the works for the sake of displaying child pornography. We're looking for a debate on the issue. So if people are offended by it then they should by all means speak out and say so."
Denmark is the only Scandinavian country where sexual depictions of fictional children is permissible, but the Social Democrats proposed a ban in April. Denmark is also the home of Jyllands-Posten, the newspaper which published 12 editorial cartoons with images of the Islamic prophet Muhammad in 2005. The resulting protests led to riots and more than 100 deaths in countries across the Middle East and elsewhere.
The museum's page about the exhibition uses an image that is hosted on Wikimedia Commons, the media website related to the free online encyclopedia Wikipedia. Larry Sanger, a co-founder of Wikipedia who is no longer involved with the site, cited this image as an example of alleged "child pornography" on Wikimedia Commons when he reported the media site to the FBI and other authorities.
Source: The Copenhagen Post (link 2)
---