News

UK Retailer Lists Vampire Knight Guilty, Rideback

posted on by Gia Manry
---
The United Kingdom-based retailer Play.com is currently listing four unannounced English-language region 2 anime releases: the first is a complete series box set of Rideback, the second a box set of Gunslinger Girl: Il Teatrino, and the third and fourth are two discs offering the first seven episodes of Vampire Knight Guilty. No publisher is named for any of these releases.

The 2009 TV anime Rideback is based on Tetsuro Kasahara's manga of the same name and revolves around a former ballerina who quit due to an injury. At college, she stumbles upon a student club building a transforming motorcycle called the Rideback, which she pilots with great skill.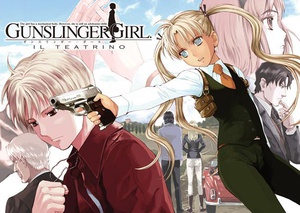 Gunslinger Girl: Il Teatrino is the 2008 TV anime sequel to 2003's Gunslinger Girl, itself based on Yu Aida's manga of the same name. The series tells the stories of a group of young orphan girls who are "adopted" by a social welfare organization which surgically enhances their bodies with cybernetics, brainwashes them, and uses them as assassins for the Italian government.

In 2008, both Vampire Knight and its sequel, Vampire Knight Guilty, aired in Japan with a break of four months in between them. The series stars Yuki, a high school girl whose unique school features a "day class" of normal kids and a "night class" of vampires. She works with her adopted father and headmaster to prove that vampires can coexist with humans peacefully, but the school- and the vampires -hide many secrets. The series is based on Matsuri Hino's Vampire Knight manga.
In North America, Funimation holds the license to both Rideback and Gunslinger Girl: Il Teatrino. Funimation also has an ongoing deal with Manga Entertainment UK. Viz Media owns the license to Vampire Night Guilty in North America, and also has a deal with Manga Entertainment UK.
[Via UK-Anime]
Thanks to Andrew Hanley for the tip.
---