×
remind me tomorrow
remind me next week
never remind me
Subscribe to the ANN Newsletter • Wake up every Sunday to a curated list of ANN's most interesting posts of the week.
read more
News

Strike Witches UK Release in November, Rated "12"

posted on by Andrew Osmond
Also,
King of Thorn
Blu-Ray, Vampire Bund in November and Haruhi audio comments.
---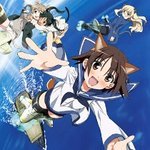 Manga Entertainment released new information about three of the titles it had announced at the London Expo convention last month. Strike Witches Season 1 has been given a "12" certificate by the BBFC and will be released as an uncut two-disc DVD on October 10.
Manga's response to the "12" certificate was to tweet, "What was all the fuss about, guys? (...) This shows how conservative some of you guys are(...) I just think we are all overly sensitive to moe and loli content and how The Man interprets it." Later, Manga advertised Strike Witches as "Waging war in pants! They fight in their undies, so that you never have to."
Replying to a tweeted question from Shiroi Hane, Manga said that another title, Dance in the Vampire Bund, was scheduled for release in November. "Waiting for Madman to send us discs for BBFC. Highschool of the Dead is with them now."
Replying to a query from Neferpitou for the Anime UK News website, Manga confirmed that the feature film King of Thorn would be released in a Blu-Ray edition.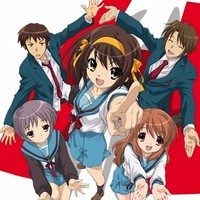 Manga also commented on the soundtrack for its upcoming DVD of the second season of The Melancholy of Haruhi Suzumiya, due on July 4. "The Manga release only includes mono audio on the Japanese soundtrack. This is the same version Madman released. Bandai US re-released their version when they realised there was only a mono option. Unfortunately, we were not informed of this by Kadokawa, the company we license Haruhi Season 2 from. We worked with what we were given. (...) All I can do is apologize on behalf of Manga Entertainment for disappointing you. (...) In summary, what I'm saying is we are only as good as the materials our licensors supply to us, either directly or via Madman."
Asked by Shiroi Hane whether Quality Control should have picked up the problem, Manga said, "QC checks won't flag up mono audio if that audio sounds fine and is in sync. We didn't know there is another audio option!"
© 2007 501st JOINT FIGHTER WING
©2006 Nagaru Tanigawa / Noizi Ito / member of SOS
---