News

First Volume of Black Butler Released Monday

posted on by Andrew Osmond
Fantasy set in Victorian Britain, alongside release of
Sekirei
.
---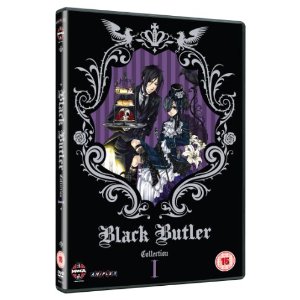 Manga Entertainment is releasing two titles this Monday: Black Butler Collection 1 (RRP £24.99) and Sekirei - The Complete Series (RRP £29.99),
Set in Victorian England, Black Butler features a twelve-year old aristocratic boy (Ciel Phantomhive) and his impeccably handsome, soft-spoken, black-suited butler Sebastian. Phantomhive comes from a line of unofficial royal servants, investigating cases that conventional police can't solve. The nature of Sebastian becomes clear during the series, as he helps Ciel fight everything from monster hounds to Jack the Ripper. The DVD features the first twelve episodes of the series (based on the manga by Yana Toboso), plus a "bonus" clips-show and commentaries on two episodes by the American dub cast.

Based on Sakurako Gokurakuin's Sekirei manga, Sekirei is the story of Minato Sahashi, a hapless man who has failed at getting into college or getting a love life, who suddenly meets a beautiful girl named Musubi. Minato learns he can become an Ashikabi, a master of the 108 artificial, humanlike creatures in the Sekirei project that will fight each other to their dying breaths. At the London Expo convention this May, Jerome Mazandarani of Manga Entertainment described Sekirei as "the breast anime ever!"
---