News

Live-Action Doraemon Ad Shows Cast 2 Decades Later

posted on by Egan Loo
---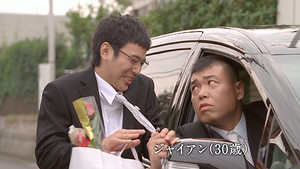 On Friday in Japan, Toyota Motor Corporation will run a new commercial that depicts the characters of the classic children's manga Doraemon in live-action, two decades after they grow up. In the "Nobita, 30 Years Old" ad, Satoshi Tsumabuki (Dororo, Ikebukuro West Gate Park, Smuggler) plays Nobita, the hapless owner of the manga's title robot cat, while mixed martial artist Naoya Ogawa plays his bullying friend Takeshi "Gian" Gōda.
Actor Kazuki Enari once played Nobita in the variety show Gimon, Nanmon, Doraemon! in 2007, but the new project will be the first live-action commercial of Doraemon. The commercial uses the song "Kiseki" by the four-singer group "GReeeN."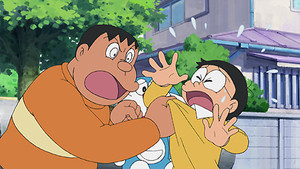 The commercial will have both animated and live-action sequences. In the anime sequences, Nobita, Gian, Doraemon, their pal Tsuneo, and Nobita's female interest Shizuka are on a vacant lot, talking about their future dreams. Suneo says, "I'll be rich," and Gian says, "I'll be a singer." After some contemplating, Nobita says, "I'll go driving with Shizuka" — prompting Gian to grab Nobita and tell him off, "You're such a wise guy, Nobita!"
Two decades later, Gian (played by Ogawa in live-action) is singing while driving a car. He is decked out in a suit and white tie, as if he just left a wedding ceremony. Gian stops near the vacant lot from his childhood (as seen in Doraemon), and a man tumbles out of the rear door. The man is Nobita (Tsumabuki), who watches forlornly as Gian speeds off. The ad ends with actor Koji Ishizaka (Pocket Monsters Diamond & Pearl: Dialga vs. Palkia vs. Darkrai) intoning in narration, "Nobita Nobi, single at 30 of course."
A dōjinshi creator once created an unofficial ending for Fujio F. Fujiko's famous manga, but he had to apologize and share the profits from the 13,300 copies of his dōjinshi sold in 2007. The "ending" takes place after Doraemon's battery dies, rendering the robot cat immobile. Nobita, the main character of the series, grows up to become a robot engineer, which enables him to potentially revive Doraemon.
Source: Mainichi Shimbun's Mantan Web
Image © Fujiko Pro, Shogakukan, TV Asahi, Shinei, ADK
---
This article has a follow-up:
Movie Star Jean Reno Plays Doraemon in Live-Action Ads
(2011-11-17 11:00)