News

Panty & Stocking DVD Details

posted on by Andrew Osmond
Three-disc DVD, 18 rating, over 80 minutes of bonus material.
---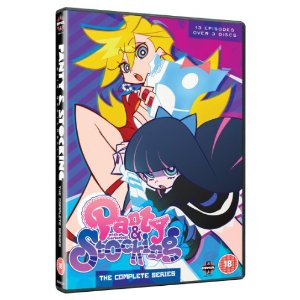 Manga Entertainment has announced some details of its July 30 DVD release of Panty & Stocking with Garterbelt on its facebook page. It will be a three-disc set with over 80 min of bonus material, including the extra "Loft Plus" episode from the Japanese edition. Other extras will include a Making of, Out-takes/Missing Scenes, promos and trailers. The release is rated 18 by the BBFC, uncut.
Studio Gainax's Panty & Stocking with Garterbelt television anime series originally aired in October-December 2010. The story centers around a teen-celebrity-like blond-haired girl named Panty and a black-haired Goth Loli girl named Stocking. The two are angels sent from the heavens to battle the "Ghosts" on Earth.
---