News

Gatchaman's Katsuji Mori Joins Gatchaman Crowds Cast

posted on
---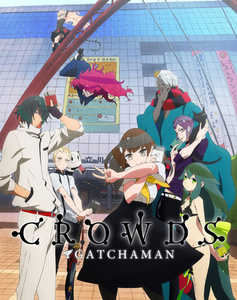 Voice actor Katsuji Mori, who played the main character Ken the Eagle in the original Gatchaman anime, will join the cast of the new Gatchaman Crowds anime as J. J. Robinson, the guardian of Earth who recruits the main character Hajime Ichinose (played by Maaya Uchida of Love, Chunibyo & Other Delusions!).
Other cast announcements include:
Four-member rock band WHITE ASH will perform the opening theme song "Crowds." Uchida will perform the ending theme song "Innocent Note."
The story of Gatchaman Crowds is set in Japan in the early summer of 2015. 180,000 people live in Tachikawa City, the "second metropolis" of the Tokyo area. Among them are "Gatchaman" — warriors who fight in special reinforced suits powered by "NOTE," the manifestation of special spiritual powers in living beings. A council has scouted a group of individuals with latent powers to protect Earth from alien criminals. In recent years, the council has assigned Gatchaman warriors to deal with the mysterious entity known as "MESS."
Kenji Nakamura (Mononoke, tsuritama) will be directing off scripts from Toshiya Ono (Suite Precure, tsuritama) at Tatsunoko Productions. Illustrator Kinoko did the original character designs for the characters, while Koji Nakakita (Wandaba Style, Jūsō Kikō Dancouga Nova) did the mecha designs.
The first Gatchaman anime premiered in October of 1972 and earned an average rating of 21%. It was only planned for two quarters (kūru or cours) of a year, but was extended to two full years and 105 episodes. It has since spawned anime films as well as later television and video series. The anime series in the Gatchaman franchise were adapted, with varying degrees of faithfulness, into English under the names Battle of the Planets, G-Force, and Eagle Riders.
The franchise is also inspiring a live-action film adaptation starring Tori Matsuzaka, Gō Ayano, Ayame Gōriki, Tatsuomi Hamada, and Ryōhei Suzuki that will open in Japan on August 24.
Gatchaman Crowds will premiere in Japan on July 12.
Source: Mainichi jp via: Yaraon!
---