Interest

Gatchaman Crowds Unveils 7 More Characters

posted on
---
The official website for the Gatchaman Crowds anime added seven more characters to the anime's roster on Friday:

O.D (Birthday: June 8 | Age: Unknown | Height: 190 cm)
The mood-making man of the Tachikawa "CAGE" with the catchphrase of "You're overdoing it-!!." He calls his Gatchaman a sad Gatchaman that can't transform, and because of this he does not go on normal missions. With his guardian-like existence to the team, people who might not open up their hearts to others would open it up to him. He owns a cat named Altair (Al for short).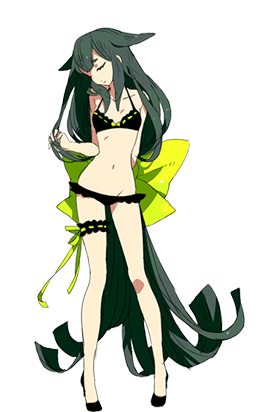 Utsu-tsu (Birthday: Unknown | Age: 15 (assumed) | Height: 143 cm)
A first-year student attending the Tachikawa Private Academy for the Gifted. She works as a volunteer taking care of the flowers at the Tachikawa City International Greenery Garden. She does not have a very positive image of herself, and fears getting closer to others. The only one she can speak to normally is O.D. Just about the only thing she says to the other members is "I will be gloomy...," which is a pun on her name.

Paiman (Birthday: Unknown | Age: Unknown | Height: 33 cm)
An alien Gatchaman dispatched by J.J. to Earth, and the member of "CAGE" who has been on the team longest (a few hundred years and counting). He has the full trust of J.J., and is therefore placed as the leader of the team to put the utmost priority on J.J.'s prediction for the future. He also gives the orders to the team.

J.J. Robinson
A member of the board of trustees, and the guardian of Earth. He is a man who has looked after of lives born in the galaxy for many years. He gave the Gatchaman to Earthlings who had the correct characteristics, and informs them of his prediction of an existence that will be impossible to repel with the powers of science.

Rui Ninomiya (Birthday: April 25 | Age: 18 | Height: 168 cm)
A young man living on the top floor in the high-class mansion-apartment building Glorious Tower Toyosu in Tokyo's Koto ward. His trump card is his superb intellect, he is trilingual, being able to speak English, Japanese, and Chinese. After educating himself using educational websites and learning how to write code from hackers around the world, he developed the social networking services "GALAX" and "President X." He believes that the current Japan is extremely boring, and is doing many things in order to speed up and update the world's clocks.

Berg Katze (Birthday: Unknown | Age: Unknown | Height: 215 cm)
A mysterious individual who says that he is an alien. His goals and the reasons behind his actions are a mystery.

?
A charismatic, extremely famous figure within the GALAX social networking service.
The story of Gatchaman Crowds is set in Japan in the early summer of 2015. 180,000 people live in Tachikawa City, the "second metropolis" of the Tokyo area. Among them are "Gatchaman" — warriors who fight in special reinforced suits powered by "NOTE," the manifestation of special spiritual powers in living beings. A council has scouted a group of individuals with latent powers to protect Earth from alien criminals. In recent years, the council has assigned Gatchaman warriors to deal with the mysterious entity known as "MESS."
Kenji Nakamura (Mononoke, tsuritama) will be directing off scripts from Toshiya Ono (Suite Precure, tsuritama) at Tatsunoko Productions. Illustrator Kinoko did the original character designs for the characters, while Koji Nakakita (Wandaba Style, Jūsō Kikō Dancouga Nova) did the mecha designs.
The first Gatchaman anime premiered in October of 1972 and earned an average rating of 21%. It was only planned for two quarters (kūru or cours) of a year, but was extended to two full years and 105 episodes. It has since spawned anime films as well as later television and video series. The anime series in the Gatchaman franchise were adapted, with varying degrees of faithfulness, into English under the names Battle of the Planets, G-Force, and Eagle Riders.
The franchise is also inspiring a live-action film adaptation starring Tori Matsuzaka, Gō Ayano, Ayame Gōriki, Tatsuomi Hamada, and Ryōhei Suzuki that will open in Japan on August 24.
Gatchaman Crowds will premiere in Japan in July.
Images © Tatsunoko Productions/Gatchaman Crowds Production Committee
Update: Rui Ninomiya and Berg Katze have been announced to have male voice actors, so their pronouns have been changed to male pronouns. Thanks to aki for the correction.
---