×
remind me tomorrow
remind me next week
never remind me
Subscribe to the ANN Newsletter • Wake up every Sunday to a curated list of ANN's most interesting posts of the week.
read more
News

Crunchyroll to Stream More World God Only Knows, Silver Spoon, Makai Ouji

posted on by Egan Loo
---
Media service Crunchyroll announced at its Anime Expo panel on Saturday that it will stream the following series:
The World God Only Knows: Goddesses (Kami nomi zo Shiru Sekai: Megami-Hen)
Silver Spoon
Makai Ōji: Devils and Realist
WataMote: No Matter How I Look at It, It's You Guys Fault I'm Not Popular
Sunday Without God
The Eccentric Family (Uchōten Kazoku)
Yami Shibai: Japanese Ghost Stories
Crunchyroll also announced that its service is coming soon to PlayStation Vita as an app.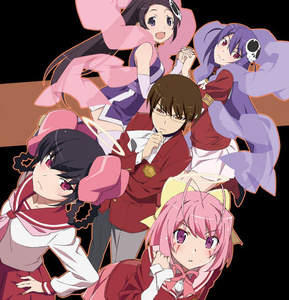 Kami nomi zo Shiru Sekai: Megami-Hen is the third television series of The World God Only Knows. Yuka Iguchi (Nekomonogatari (Black), A Certain Magical Index) will play the astronomy club president Tsukiyo Kujō, Ayahi Takagaki (Heaven's Lost Property, Blue Exorcist) will play the sheltered girl Yui Goidō, and Haruka Tomatsu (Sword Art Online, Pretty Rhythm Rainbow Live) will play the new district chief Lune. The series will premiere in Japan on July 8.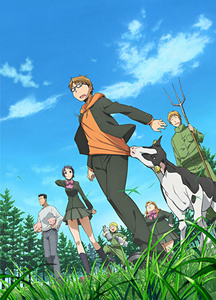 Hiromu Arakawa's slice-of-life comedy manga Silver Spoon follows a boy's life in an agricultural school. Ryohei Kimura (Kids on the Slope's Kaoru) and Marie Miyake (Penguindrum's Ringo) lead the cast which also includes Tooru Sakurai, Ayahi Takagaki, Nobunaga Shimazaki, and Masayuki Shouji.
Tomohiko Ito (Occult Academy, Sword Art Online) is directing Silver Spoon with assistant director Otomi Deai at A-1 Pictures. Taku Kishimoto (Bunny Drop) is writing the scripts, while Jun Nakai (Mardock Scramble films, The Sacred Blacksmith) is serving as character designer and chief animation director. Shusei Murai (Allison & Lillia, Aiura) is scoring the music. miwa will perform the "Kiss you" opening theme, while Sukima Switch will be performing the "Hello Especially" ending theme song.
The anime will premiere in Japan on July 11 on Fuji TV's Noitamina block.

Makai Ōji: Devils and Realist centers on William Twining (Takuya Eguchi), an aristocratic family's progeny with rare intellect. One day, Wiliam's uncle lost his possessions after his business failed. Fearing that his family's name has been tarnished, William returns home and searches with his family's butler for anything that can be converted into cash. A search of the premises yields an underground room left by an ancestor. In the room is a magical seal, and William unintentionally summons a devil (Takuma Terashima). The summoned devil tells William his name is Dantalion, and reveals that William is the "Elector" who can choose the next acting ruler of Hell.
The show also stars Yoshitsugu Matsuoka as Sitori, Jun Fukuyama as Kevin, and Motoki Takagi as Isaac. Other cast members include Kousuke Toriumi as Gilles de Rais, Mitsuki Saiga as Solomon, Yuuki Ono as Mycroft Swallow, Hiroki Yasumoto as Baphomet, Kazutomi Yamamoto as Amon, and Yuuto Suzuki as Mamon. Eguchi (William), Terashima (Dantalion), Matsuoka (Sitori), and Kakihara (Camio) are also performing both the "Believe My Dice" opening theme and "a shadow's love song" ending theme.
Chiaki Kon (Junjō Romantica, When They Cry - Higurashi, La storia della Arcana Famiglia) is directing the anime at Dogakobo, and Michiko Yokote (C³, Squid Girl, XXXHOLiC) is supervising the series scripts. Kikuko Sadakata (Corpse Princess, Shikabane Hime: Kuro) serves as both character designer and chief animation director.
The anime will premiere in Japan on July 7.

The television anime adaptation of creative team Nico Tanigawa's Watashi ga Motenai no wa Dou Kangaete mo Omaera ga Warui! (No Matter How I Look at It, It's You Guys Fault I'm Not Popular/WataMote) manga series will debut on July 8 on the TV Tokyo.
The slice-of-life gag comedy centers around Tomoko Kuroki, a girl who thought she would be popular when she went to high school. However, she was in for a rude awakening, for cruel reality is not like the otome games (romance games for female players) she played.

The fantasy of Sunday Without God, which is based on a series of light novels by Kimihito Irie, is set 15 years after humans stopped being born and the dead stopped dying, since the world was abandoned by God. That left "Gravekeepers" with the unique task of giving the would-be dead peace. A girl named Ai is the only Gravekeeper in her village; she was born from a Gravekeeper mother and a human father 12 years ago. One day, a boy named Hanpunii Hanbaato appears and begins firing his pistol indiscriminately and setting the village on fire. Hanpunii confronts Ai with the shocking truth.
Yuuji Kumazawa (Oda Nobuna no Yabō) is directing off scripts supervised by Tomoko Konparu (Kimi ni Todoke - From Me to You, NANA, Nodame Cantabile). Shinichi Miyamae designed the characters, while Studio Easter is producing the backgrounds. Satoshi Motoyama is serving as sound director, and Hiromi Mizutani (Hell Girl, Toriko, The Wallflower) is scoring the music courtesy of Starchild Records.
Cast members include:
Aki Toyosaki as Ai
Daisuke Namikawa as Hanpunii Hanbaato
Yuko Goto as Hana
Mamiko Noto as Scar
Keiji Fujiwara as Yurii Sakuma Domiitoriebicchi
Tetsuya Kakihara as Kiriko Zuburesuka
Mikako Komatsu as Urra Eureusu Hekumatika
Eri Kitamura as Dii Enjii Sutoratomittosu
The anime series premiered in Japan on Saturday.

In The Eccentric Family, P.A. Works is adapting a novel by Tomihiko Morimi, the author of The Tatami Galaxy (Yojō-Han Shinwa Taikei) novel that previously inspired a 2010 television anime. Kôji Kumeta (Sayonara, Zetsubou-Sensei, Joshiraku) is providing the original character designs for Uchōten Kazoku — the first time he has done so for a project not based on one of his manga.
Takahiro Sakurai plays Yasaburō (pictured as the boy and girl in the center of the image), the Shimogamos' third-oldest son who sometimes takes the form of a high school girl. Junichi Suwabe plays Yaichirō (far right), the oldest son who is earnest but often weak-willed at the last moment. Hiroyuki Yoshino plays Yajirō, the second-oldest son who often assumes the shape of a frog and and goes off into seclusion by himself at a well. Mai Nakahara plays Yashirō (far left), the timid youngest son. Kikuko Inoue plays their mother (top left), an obsessed fan of the all-female theater troupe Takarazuka. Rounding out the main cast is Mamiko Noto as the bewitching girl Benten (topmost) who can be found floating carefreely in the skies.
Yami Shibai (Theater of Darkness) is a series of six-minute horror anime shorts that will begin airing on TV Tokyo on July 14 between 2:15 and 2:21 a.m. The anime will be animated at the studio ILCA, with Tomoya Takashima directing off scripts by Hiromu Kumamoto. The cast includes Kanji Tsuda, Ryōta Murai, Ryō Hirano, Keisuke Ueda, and Shōichirō Masumoto.
---