Interest

Makai Ōji: Devils and Realist Adds Kousuke Toriumi, Motoki Takagi, Mitsuki Saiga to Cast

posted on by Sarah Nelkin
Yuuki Ono, Hiroki Yasumoto, Kazutomi Yamamoto, Yuuto Suzuki also join; theme songs and character designs also unveiled
---
The official website for the Makai Ōji: Devils and Realist television anime revealed 7 new cast members for the series on Tuesday:
Motoki Takagi as Isaac Morton
Kousuke Toriumi as Gilles de Rais
Mitsuki Saiga as Solomon
Yuuki Ono as Mycroft Swallow
Hiroki Yasumoto as Baphomet
Kazutomi Yamamoto as Amon
Yuuto Suzuki as Mamon
The website also revealed that the main cast members Takuya Eguchi (William), Takuma Terashima (Dantalion), Yoshitsugu Matsuoka (Sitori), and Tetsuya Kakihara (Camio) will be performing both the "Believe My Dice" opening theme and "a shadow's love song" ending theme. Both songs will be released on the same single CD on July 24.
In addition, the website unveiled the character designs for the main cast. Most of the characters are named after demons and famous figures in literature:

Takuya Eguchi (Inu X Boku Secret Service, My Teen Romantic Comedy SNAFU) plays William Twining, the son of a famous aristocrat who went from riches to rags due to a mistake in his uncle's business. He doesn't believe in the existence of demons.

Takuma Terashima (The
[email protected]
, Kokoro Connect) plays Dantalion, the first demon summoned by William. He decides to stay by William's side until the boy chooses a substitute king due to William's lack of belief in demons. In the human world, he changes into one of William's classmates at the academy and enjoys the talk of the other students.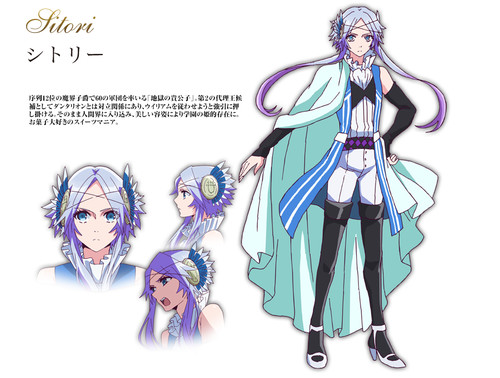 Yoshitsugu Matsuoka (The
[email protected]
, Sword Art Online) plays Sitori, a candidate for substitute king and rival of Dantalion. He has a very female-like appearance, and becomes a princess-like figure within the academy.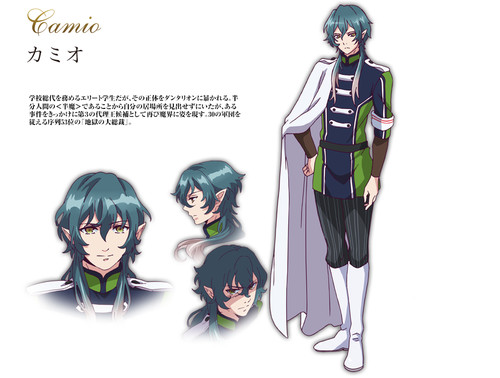 Tetsuya Kakihara (Fairy Tail, Pretty Rhythm Rainbow Live) plays Camio, another candidate for substitute king who plays the role of a student prodigy at the academy. He is half human and half demon.

Jun Fukuyama (Working!!, Valvrave the Liberator) plays Kevin, a butler of the Twining house with a love of gambling. He had been chasing William's uncle after the incident in his business, but now works as a teacher at the academy. There may be more to him than there appears...

Motoki Takagi (ef: A Tale of Memories, Brave10) plays Isaac Morton, a friend of William at school. Due to his love for the occult, he has much knowledge on the subject of demons. He gets caught up in the battle between the demons over William.
The adaptation will be directed by Chiaki Kon (Junjō Romantica, When They Cry - Higurashi, La storia della Arcana Famiglia) at Dogakobo with series composition by Michiko Yokote (C³, Squid Girl, XXXHOLiC). Kikuko Sadakata (Corpse Princess, Shikabane Hime: Kuro) will serve as character designer and chief animation director.
The story revolves around William, an aristocratic family's progeny with rare intellect. One day, his uncle lost his possessions after his business failed. Fearing that his family's name has been tarnished, William returns home and searches with his family's butler for anything that can be converted into cash. A search of the premises yields an underground room left by an ancestor. In the room is a magical seal, and William unintentionally summons a devil. The summoned devil tells William his name is Dantalion, and reveals that William is the designator who can choose the acting ruler of the demon world.
The anime will premiere in Japan on July 7.
---