×
remind me tomorrow
remind me next week
never remind me
Subscribe to the ANN Newsletter • Wake up every Sunday to a curated list of ANN's most interesting posts of the week.
read more
News

Gatchaman Crowds Anime's Opening Previewed Before Airing

posted on by Egan Loo
---
The opening sequence for the Gatchaman Crowds television anime series debuted at Japan Expo in Paris on Sunday, and NTV began streaming the sequence on its Video on Demand service.
(To turn off the scrolling comments, select the word balloon icon on the bottom right corner of the video.)
The story is set in Japan in the early summer of 2015. 180,000 people live in Tachikawa City, the "second metropolis" of the Tokyo area. Among them are "Gatchaman" — warriors who fight in special reinforced suits powered by "NOTE," the manifestation of special spiritual powers in living beings. A council has scouted a group of individuals with latent powers to protect Earth from alien criminals. In recent years, the council has assigned Gatchaman warriors to deal with the mysterious entity known as "MESS."
Kenji Nakamura (Mononoke, tsuritama) will be directing off scripts from Toshiya Ono (Suite Precure, tsuritama) at Tatsunoko Production, and Kamikaze Douga produced the opening animation. Illustrator Kinoko contributed the original character designs for the characters, while Koji Nakakita (Wandaba Style, Jūsō Kikō Dancouga Nova) designed the mecha such as Hajime, Sugane, and Joe's G-suit designs. In addition, Kenji Andou (Tiger & Bunny) is designing the G-suits for the other characters.
The main characters have already been revealed: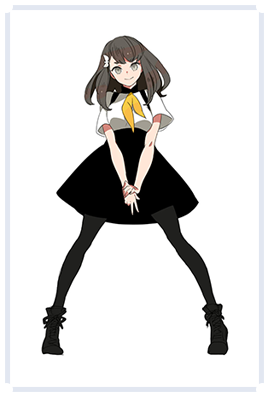 Hajime Ichinose (Born: November 25 | Age: 16 years old | Height: 155 cm) Voice:
Maaya Uchida
Hajime has the "Designer NOTE" power — the ability to design anything imaginable and make it a reality. Every part of Hajime's suit conceals special weapons inspired by scissors and other stationery items.
The main character of the story, Hajime is an 11th grader attending a high school in Tachikawa City. A powerful and energetic girl with an artistic spirit, she is a little bit strange in a good way. She has a passion for stationery goods, and gets extremely excited when it comes to different models of pens and scissors. She is put under the responsibility of Sugane, but usually goes against him and acts on her own. However, she greatly affects the world and her team members when she does something that results in something that has never been seen in Gatchaman activities in the past.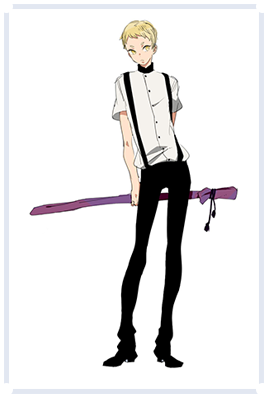 Sugane Tachibana (Born: August 2 | Blood Type: O | Height: 175 cm) Voice:
Ryota Ohsaka
Sugane possesses the "Inifinite Range NOTE" power to manipulate time and space during battles. His G-suit draws influences from armored warriors, ninja, and mystical beasts with scales. He wields the "molecular-vibration tuning fork sword Shipū" for dealing with enemies at close range, as well as concealed weapons and the "unlimited sword Arashi" for finishing moves against enemies at any range.
Sugane is a samurai boy with an old-fashioned personality and speech who has spent five years on the G Team. Due to his personality, he holds justice and his duties very strongly, and is at first baffled by Hajime, who makes him believe in things he had once not thought possible. When he first met her, he did not even think of her as a woman, but as they continued to work together, he began to understand and admire her, and even began to hold feelings of love for her.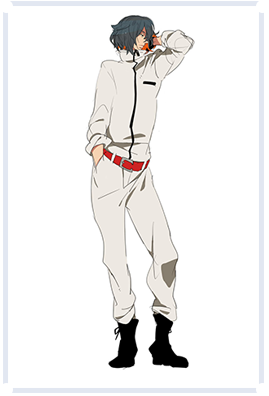 Joe Hibiki (Born: March 29 | Blood Type: B | Height: 187 cm) Voice:
Daisuke Namikawa
Joe has the "Firebomb NOTE" — the ability to freely manipulate flames. His G-suit releases vapors all over his body for cooling when he is emitting flames. He fights with flame shuriken, volleys of fireballs from both arms, and other forms of flame attacks. He can even fly by emitting flames from his hands and feet.
Joe is a Tokyo University graduate who felt despair and nothingness toward the human race, and also felt the limits of the world after 10 years of being on the G Team. However, after meeting Hajime, he gained back his passion for living, and became serious about his work. He is usually running the "Living Safety Department" in the town hall, where he is transformed into a clean, well-kempt, handsome man. However, in the evening, he lets down his hair, puts away his glasses, and smokes, changing his personality entirely. He calls Hajime "little lady," and himself "old man." Although he keeps his distance from Hajime, he actually is very interested in her.



O.D (Birthday: June 8 | Age: Unknown | Height: 190 cm) Voice:
Daisuke Hosomi
The mood-making man of the Tachikawa "CAGE" with the catchphrase of "You're overdoing it-!!." He calls his Gatchaman a sad Gatchaman that can't transform, and because of this he does not go on normal missions. With his guardian-like existence to the team, people who might not open up their hearts to others would open it up to him. He owns a cat named Altair (Al for short).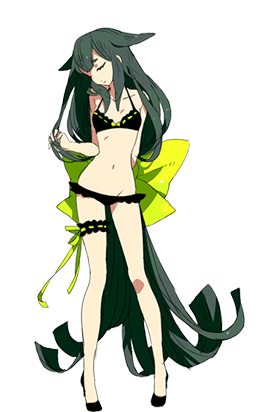 Utsu-tsu (Birthday: Unknown | Age: 15 (assumed) | Height: 143 cm) Voice:
Kotori Koiwai
A first-year student attending the Tachikawa Private Academy for the Gifted. She works as a volunteer taking care of the flowers at the Tachikawa City International Greenery Garden. She does not have a very positive image of herself, and fears getting closer to others. The only one she can speak to normally is O.D. Just about the only thing she says to the other members is "I will be gloomy...," which is a pun on her name.

Paiman (Birthday: Unknown | Age: Unknown | Height: 33 cm) Voice:
Aya Hirano
An alien Gatchaman dispatched by J.J. to Earth, and the member of "CAGE" who has been on the team longest (a few hundred years and counting). He has the full trust of J.J., and is therefore placed as the leader of the team to put the utmost priority on J.J.'s prediction for the future. He also gives the orders to the team.

J.J. Robinson - Voice:
Katsuji Mori
A member of the board of trustees, and the guardian of Earth. He is a man who has looked after of lives born in the galaxy for many years. He gave the Gatchaman to Earthlings who had the correct characteristics, and informs them of his prediction of an existence that will be impossible to repel with the powers of science.

Rui Ninomiya (Birthday: April 25 | Age: 18 | Height: 168 cm) Voice:
Ayumu Murase
A young man living on the top floor in the high-class mansion-apartment building Glorious Tower Toyosu in Tokyo's Koto ward. His trump card is his superb intellect, he is trilingual, being able to speak English, Japanese, and Chinese. After educating himself using educational websites and learning how to write code from hackers around the world, he developed the social networking services "GALAX" and "President X." He believes that the current Japan is extremely boring, and is doing many things in order to speed up and update the world's clocks.

Berg Katze (Birthday: Unknown | Age: Unknown | Height: 215 cm) Voice:
Mamoru Miyano
A mysterious individual who says that he is an alien. His goals and the reasons behind his actions are a mystery.

?
A charismatic, extremely famous figure within the GALAX social networking service.
The anime will premiere on July 12 and Crunchyroll is streaming it into several countries as it airs in Japan.
[Via NicoTubeAnime]
Images © Tatsunoko Productions/Gatchaman Crowds Production Committee
---