News

Junketsu no Maria Manga by Moyashimon's Ishikawa Gets Anime

posted on by Egan Loo
Masayuki Ishikawa
's fantasy of witch who tries to stop Hundred Years' War despite divine edict
---

The wraparound jacket band on the third volume of Masayuki Ishikawa's Junketsu no Maria - Sorcière de gré, pucelle de force manga is announcing on Saturday that an anime adaptation has been green-lit.
The story follows Maria, the most powerful witch who lives during the Hundred Years' War in France. She despises war, so she obstructs battles with her strong magical powers. Her meddling with her succubus Artemis and incubus Priapos has caught the attention of the heavens, and so the Archangel Michael issues an edict. When Maria loses her virginity, she will also lose her magical powers. A beautiful angel named Ezekiel is supposed to watch Maria and make sure the witch does not use magic in front of people, but Maria continues to use magic anyways.
Ishikawa launched the manga in the inaugural issue of Kodansha's good! Afternoon magazine in 2008, and the manga ended its run in this magazine earlier this year.
Ishikawa also draws the Moyashimon: Tales of Agriculture manga in Kodansha's Evening magazine, and Del Rey published part of the manga in North America. Moyashimon inspired two television anime series and a live-action television series.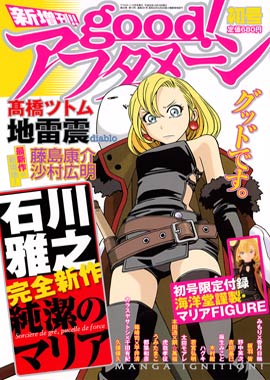 [Via IEEE802.11]
Update: Moyashimon moved to Kodansha's Morning 2 magazine in June. Thanks, boznia
---