News

Hatsune Miku Project Mirai 2 Game's 8-Minute Video Previews 21 Songs

posted on by Egan Loo
New "Yumeyume" music video & vocal change highlighted from November 28 3DS title
---
Sega publicity representative Tarō Maihama presented an eight-minute video for Hatsune Miku Project Mirai 2, the upcoming Nintendo 3DS rhythm game, on Thursday. The video highlights 20 of the new additions to the song lineup, as well as the new music video for "Yumeyume."
The video previews the following songs:
"World Is Mine" by ryo
"Electric Angel" by Yasuo
"Snowman" by halyosy
"Terekakushi Shishunki" by HoneyWorks
"Interviewer" by Kuwagata-P
"1/6 out of the gravity" by Vocaliod-P
"Koneko no Payapaya" by Onecup-P
"Adolescence" by Signal-P/orange
"Cendrillon" by Signal-P/orange
"Yumeyume" by DECO*27
"Ii Aru Fan Club" by Mikito-P
"Electric Love" by Hachiōji-P
"Invisible" by kemu
"Arifureta Sekai Seifuku" by Pinocchio-P
"Do Re Mi Fa Rondo" by 40mP
"Gaikotsu Gakudan to Lilia" by Tohma
"Amatsu Kitsune" by marasy
"Piano x Forte x Scandal" by Oster project
"Sweet Magic" by Junky
"1925" by T-Pocket
"Senbonzakura" by Kurousa-P (WhiteFlame)
In all, there will be 26 songs newly added to the game. The songs from the previous game can also be played in Hatsune Miku Project Mirai 2. 11 of the songs will have 3D music videos exclusive to the game.
New costumes have been added for a grand total of over 100. Players can swap heads and bodies of different costumes ("restricted to those of the same sex"). The video also previews the "vocal change" feature, which allows players to switch between several characters for 13 of the songs, even allowing the creation of original characters for some songs. The game will also feature the ability to expand Hatsune Miku's room, with designs by leading Vocaloid creators.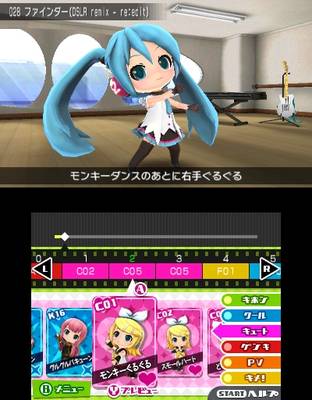 The game has new features: dance studio, "my phrase," and profile card creation for Street Pass. The dance studio feature allows players to invent choreography for Miku and other characters. An "easy mode" lets the players pick a song and dictate parts of the dance to be "cute, "cool," or "energetic," while a "careful mode" allows players to pick dance moves from cards. Any character can dance to any song. "My phrase" allows players to enter their own tune and have it play with a variety of instrument choices as well as character voices.
The game will ship on November 28. A "Hatsune Miku Project mirai 2 Puchipuku Pack" version will bundle a Miku Petit Nendoroid for 7,665 yen (about US$78). The standard edition will retail for 6,279 yen (US$64). Customers who preorder the game will receive a B5-size Hatsune Miku Student Notebook while supplies last.
---