News

Symantec Warns of Malware on Manga Scanlation Services

posted on by Lynzee Loveridge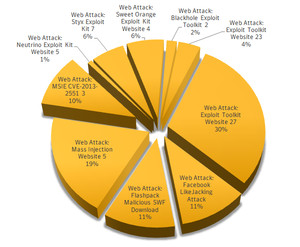 Antivirus and malware security software Symantec cautioned users on Friday about cybercriminals looking to take advantage of the anime and manga "trend." Symantec employee Lionel Payet found a "number of scanlation sites linked to malicious redirections by malvertisement and Malicious Code." Symantic created a pie graph illustrating what kinds of malware and malicious advertisements it encountered on scanlation sites from July 2013 to early January 2014.
Symantec also found adware used when viewing scanlations on a mobile device. One specific adware, "Airpush Adware," may collect the user's e-mail address, phone number, and application use and send it out to third parties. The company also noted spikes in use of scanlations coincided with chapter releases of Naruto, Bleach, One Piece, Fairy Tail, and Kingdom. With the exception of Kingdom, all the listed manga are licensed in the United States, where the highest readership of scanslations coincides (more than 50%, according to Symantec).
---