News

Durarara!! Blu-ray Coming March 24

posted on

2014-02-18

09:21 EST
New limited edition of series by Anime Limited.
---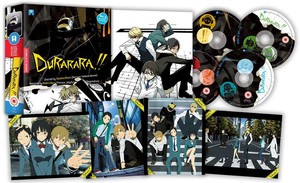 Anime Limited annouced on its facebook page that it will release its Blu-ray edition of the series Durarara on March 24, pictured. It will be a limited edition of 3000 numbered units, including art cards. (A DVD edition of the series, not limited, is still scheduled for May 26.)
The 26-episode anime, broadcast in 2010, adapts Ryohgo Narita's suspense action light novels of the same name. Narita wrote Durarara's "warped adolescent fantasy romance" about the colorful young denizens of Tokyo's Ikebukuro neighborhood. The series was previously released in the U.K. in a sub-only form by Beez Entertainment; the new edition will include the English dub.
The anime-on-line website describes the series:
Ikebukuro, Tokyo. Mikado Ryugamine is a young man who yearns for the city like no other. At the invitation of his childhood friend, Masaomi Kida, he leaves his hometown and enters Raira Academy in Ikebukuro. Masaomi warns Mikado about the mysterious organization of unknown origin known as the "Dollars" and some dangerous people in Ikebukuro to watch out for. In particular: the brawling champion Shizuo Heiwajima and hobbyist information broker Izaya Orihara.

On his first day out in the city, Mikado, remembering another of Masaomi's stories, sees a jet-black motorcycle being driven by the fabled "Headless Rider." From then on, a series of random attacks and events begins to occur on the streets of Ikebukuro, and a group known as the Yellow Scarves arises as Ikebukuro begins to crumble!
Anime Limited's trailer is below:
---
this article has been modified since it was originally posted; see change history