News

Sega Hard Girls Project with Hatsune Miku's Kei Inspires Anime

posted on by Egan Loo
Kei turned consoles like Dreamcast & Saturn into goddesses for novel in 2013
---
Sega announced on Thursday that an anime adaptation of Sega Hard Girls, the project that anthropomorphizes Sega game hardware into 17 beautiful girls, has been green-lit.

The cast includes:
Dreamcast (voiced by M.A.O)

Sega Saturn (Minami Takahashi)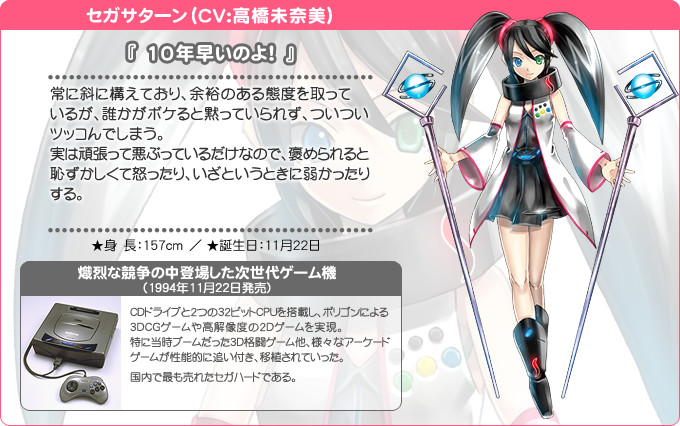 Mega Drive (Shiori Izawa)


Sega Mark III (Manami Tanaka)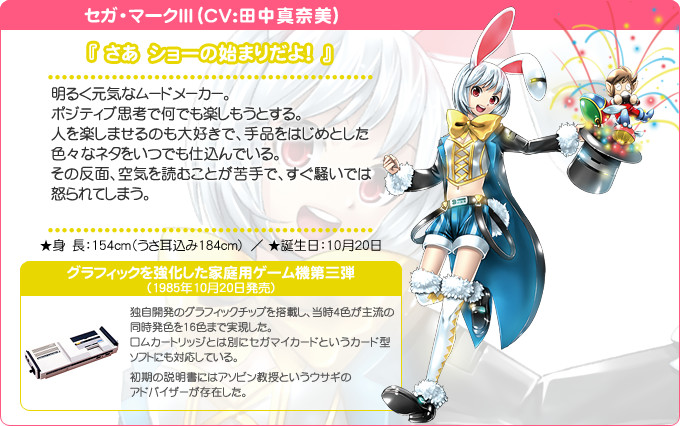 Master System (Yūko Takayama)


Game Gear


Robo Pitcher (Haruna Momono)


Visual Memory (Sumire Uesaka)


SC-3000 (Mai Aizawa)


SG-1000 (Yū Serizawa)


SG-1000 II (Naomi Ozora)


Mega-CD (Shiori Mikami)


Mega Drive 2 (Yuri Yamaoka)


Mega-CD 2 (Saori Hayashi)


Super 32X (Yui Kano)


Genesis (Asami Tano)


TeraDrive (Marina Inoue)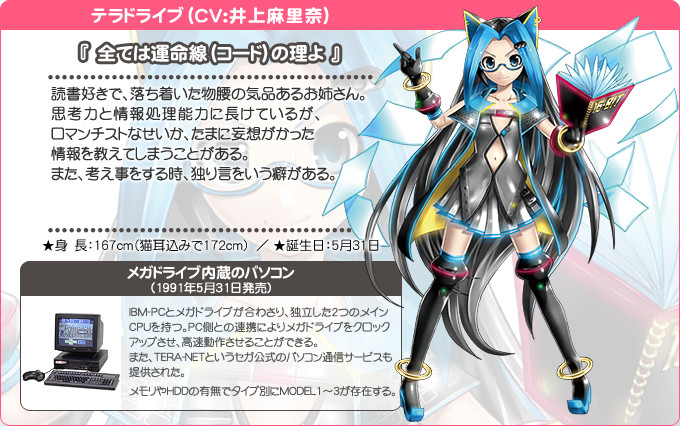 The project already inspired a novel series in Kadokawa's Dengeki Bunko Magazine last year. The novel re-imagines the various Sega game systems as goddesses who appear all over modern Japan.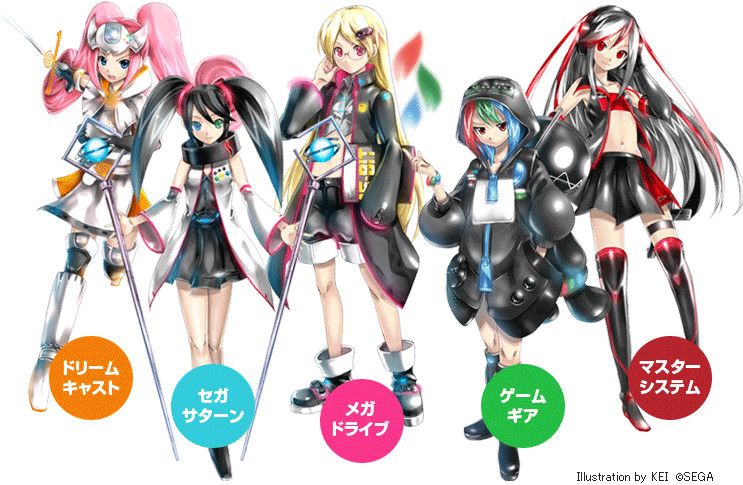 The first characters — Dreamcast, Sega Saturn, Mega Drive, Game Gear, and Master System (pictured above from left to right) — were all featured before in the Samurai & Dragons PS Vita game's "Segakko 13 ~Yume Kanaeshi Mono" event, as well as on T-shirts and other goods. Kei, the original illustrator of the girls and the artist famous for designing Hatsune Miku, returned to create updated illustrations for the novel, while Tōru Shiwasu (Boku to Kanojo no Game Sensō) has been writing it.
The novel begins in a shrine not far from the Haneda Airport where high school boy Takeo Kanbara's father is the priest. Takeo's father summons Takeo and his sister Yui after school one day. Waiting for them is a middle-school girl, who his father says will be living with them for a little while — and he adds that she is a goddess.
[Via Hachima Kikō]
---