News

Ken Yasuda to Play Hideaki Anno in Aoi Honō Drama

posted on by Crystalyn Hodgkins
---

The staff for the live-action television series adaptation of Kazuhiko Shimamoto's college life manga Aoi Honō announced additional cast members on Friday, including who will play Gainax founders Hideaki Anno (Evangelion), Hiroyuki Yamaga (Royal Space Force: Wings of Honneamise), and Takami Akai (creator, designer, director of Princess Maker).
Ken Yasuda (live-action Black Butler, Hotaru no Hikari, All Esper Dayo!, pictured below center) will play Anno, Muro Tsuyoshi (I'll Give It My All... Tomorrow, Ushijima the Loan Shark, pictured below right) will play Yamaga, and Tomoya Nakamura (live-action Yōkai Ningen Bem, pictured below left) will play Akai.


The coming-of-age drama is based on Shimamoto's own college years in the early 1980s. Anno, Yamada, and Akai have appeared in the manga since Shimamoto actually went to school with them.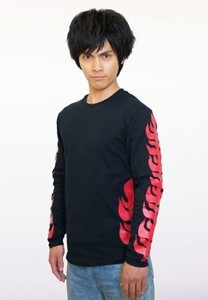 Yuuya Yagira (Nobody Knows, Genius Party's Baby Blue, Kunimitsu no Matsuri, pictured left) will star in his first over-the-air television series when he plays the title role of Moyuru Honō. Honō is a first-year student in a certain major university of the fine arts in Osaka. Full of passion and ambition, he vows to become a manga creator while also being interested in becoming an animator.
Yūichi Fukuda (HK/Hentai Kamen, One-Pound Gospel, Saru Lock, I'll Give It My All... Tomorrow, Yūsha Yoshihiko franchise, The 3-Mei-sama: Anime wa Anime de Arissho!) is directing and writing the scripts. Fukuda has been longtime good friends with Shimamoto, and he eagerly said that only he can realize Shimamoto's works onscreen.
The original manga first ran in Shogakukan's Weekly Young Sunday magazine from 2007 until the magazine's closure in 2008. It then ran in the spinoff publication Spirits Zokan YS Special before moving to its new home, Gessan (Monthly Shonen Sunday). Shogakukan published the 11th compiled volume in December. The Japanese government's Ministry of Cultural Affairs named the Manga ONE of the Jury Recommended Works in the Story Manga division in the 13th Japan Media Arts Festival Awards in 2009. The manga was also nominated for the third Manga Taisho awards in the following year.
Sources: Mainichi Shimbun's Mantan Web, Oricon
---