News

Parasyte Tribute Manga Will Also Run in Aria Magazine for Women

posted on by Kyle Cardine
Series of one-shots from multiple authors also runs in
Afternoon
---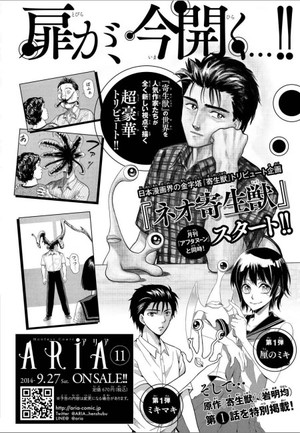 The November issue of Kodansha's ARIA magazine will begin the Neo Kiseijū (Neo Parasyte) tribute manga series for Hitoshi Iwaaki's Parasyte manga on September 27 with two one-shots by MikiMaki (Para☆Dise) and Miki Rinno (Juon -video side-). The tribute manga series consists of one-shots by various manga artists to promote the upcoming Kiseijū: Sei no Kakuritsu anime. A one-shot by Akira Hiramoto (Me and the Devil Blues, Prison School) will be the first in the one-shot series in Kodansha's Afternoon magazine.
The magazine will also serialize the first chapter of Iwaaki's original series.
The Parasyte (Kiseijū) manga takes place in a world where alien beings called Parasites come to Earth and start taking over humans by entering in through their noses and ears and attaching themselves to their brains. One alien called Migi is only able to take over high school student Shinichi Izumi's right arm, and is unable to control Shinichi completely. Migi and Shinichi learn to co-exist, and the two battle other Parasites who see humans only as food.
Iwaaki serialized Parasyte (Kiseijū) in Kodansha's Afternoon magazine from 1990 to 1995. Mixxine, the company that eventually became Tokyopop, published Parasyte in its Mixxine magazine and later in compiled book volumes. Del Rey then republished the series from 2007 to 2009, and Kodansha Comics republished the manga again from 2011 to 2012.
Parasyte will get two live-action film adaptations, the first of which is slated for December. The anime series will premiere in October.
---