News

Omega Quintet PS4 Game's Nene Previewed in Video Before October Release

posted on by Sarah Nelkin
Inori Minase stars as shy, gun-loving idol in October 2 idol RPG from Compile Heart
---
Compile Heart began streaming a new promotional video for its new PlayStation 4 idol role-playing game *ω*Quintet (Omega Quintet) on Tuesday. The video teases the character Nene before the game's October 2 release.
Text: Usually a cowardly warrior?
Nene: Wah! Sh-She really is scary...
Nene: Huh!? No way, Kana, do something... Waaaah!
Nene: Um... Is it OK for me to start? Why you...!
Nene: It really was impossible for me from the start... The job of a song maiden is really big and prestigious...
Nene: Oh, do you want to do some Volt Action? Well, you are a man.
Nene: You're not seeing things! P-Please hurry and close this!!
Nene: Um... Are you OK not doing anything?
Nene: Even I can get serious when I need to be! Not yet! Even more! Zero blast!
Nene: Are you going already?
Nene: H-H-How should I be spoiled by you? Uh, no! In the first place, being spoiled by you, Takuto, is ahh...
Nene: The smell of gunpowder is just the best. When I breathe it in, I just feel so good... Hehehe...

The game stars five "pure of heart" idols:
Riho Iida as Otoha

Rui Tanabe as Kyouka

Moe Toyota as Kanadeko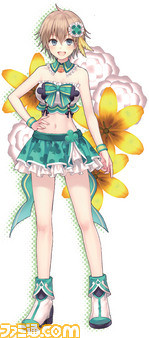 Inori Minase as Nene

Erii Yamazaki as Aria

The game's staff includes:
Music Production: Lantis
Music Producer: (idea) WILL
Character Design: Fukahire
The game will ship on October 2. The regular edition will cost 6,980 yen (about US$70) before taxes, while the download version will be 6,000 yen (US$60). The limited edition will bundle an exclusive box and special booklet for 8,980 yen (US$90). People who pre-order will receive an original soundtrack CD.
---