×
remind me tomorrow
remind me next week
never remind me
Subscribe to the ANN Newsletter • Wake up every Sunday to a curated list of ANN's most interesting posts of the week.
read more
News

Comical Psychosomatic Medicine Anime's 3rd Promo Parodies Yo-kai Watch

posted on by Egan Loo
Anime of
Yū Yūki
's mental health manga to premiere February 13
---

The official YouTube Channel for the web anime of Yū Yūki's Manga de Wakaru Shinryōnaika (Comical Psychosomatic Medicine) manga began streaming a third promotional video on Tuesday. The video features a parody to a certain anime and game franchise.
Ryō: Hello, everyone. I am Ryō Shinnai, and I practice psychosomatic medicine at the Yū Mental Clinic.
Asuna: I am Asuna Kangoshi, a nurse at the same place. By the way, doctor, I haven't been able to do anything lately. I wonder why…
Ryō: Why do you think that's the case, Asuna?
Asuna: Clearly some yōkai [supernatural creature] is behind it.
Ryō: All mental illneses have causes. We can find out about them together. The Comical Psychosomatic Medicine anime is about to begin streaming.

The first and second videos debuted in November and December, respectively.
Promotional Video 1 Transcript:
Narrator: The manga series has printed over three million copies! The world's first mental health manga gets an anime! Each episode has about five minutes of short gag stories! Depression, ED, wishes to become female, dementia, paranoia, pedophilia. You can learn about all these mental health issues while laughing!
Nurse: I wonder if we can get people to understand this anime is actually seriously trying to teach people about mental health...
Doctor: It'd be great if we could...
Narrator: People who do and don't know, head to the official site!
Promotional Video 2 Transcript:
Asuna: This is big, this is big!
Sukizō: Why are so loud, Asuna?
Asuna: Did you hear, Sukizō? The "Wakaru Shinryōnaika" manga is finally getting an anime!
Sukizō: What!? Did you say the interesting and popular "Wakaru Shinryōnaika" manga is getting an anime!?
Asuna: The great Wakaru Shinryōnaika manga that's all the buzz is finally getting an anime...
Ryō: This is just the girl's delusions, but the anime is real. Manga de Wakaru Shinryōnaika. Look forward to it!

The manga's story centers on the psychologist Ryō Shinnai and his nurse Asuna Kangoshi. (Their names are wordplays on their professions.) The pair explain aspects of mental illness through a series of loosely connected cases that usually conclude in one manga chapter. With a light-hearted tone, the doctor helps readers understand conditions such as depression, adjustment disorder, and Asperger syndrome.
The cast includes Shinichiro Miki as Ryō Shinnai (fourth from left in image below), Yurika Endō as Asuna Kangoshi (fifth), Yōko Hikasa as Iyashi Kangoshi (third), Maaya Uchida as Himeru Kangoshi (seventh), and Kenichi Ogata as Sukizō Kangoshi (sixth).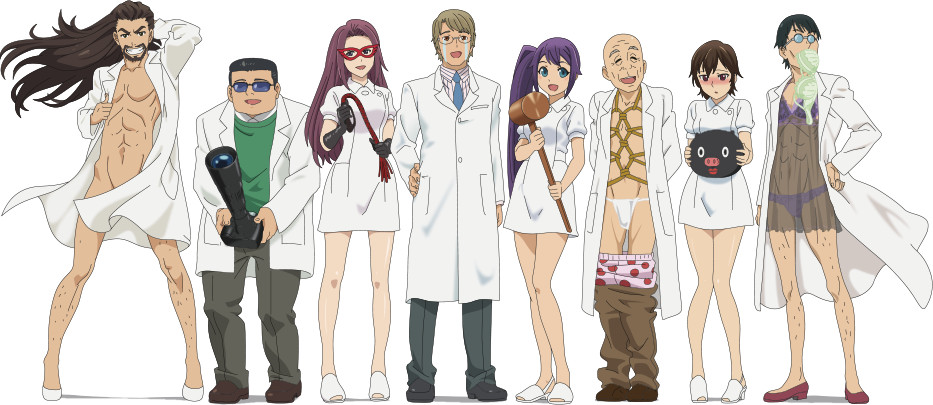 The anime will be distributed on the series' website starting on February 13.
Yūki is a psychiatrist who began irregularly serializing the manga as a web comic on his Yū Mental Clinic's website in 2009. The illustrator Sō provides the gag comedy's art. Young King began publishing the series in 2010 and released the first compiled volume that same year. The 11th compiled volume shipped in June, and the manga has three million copies in print.
The manga's seventh volume bundled a drama CD starring Wataru Hatano (Fairy Tail, No-Rin, Nyaruko: Crawling with Love!) as Ryō and Ai Kayano (Terra Formars, Selector Spread Wixoss, Guilty Crown) as Asuna. Miho Arakawa (Penguindrum, Girl Friend BETA, Magica Wars) and Chiaki Omigawa (Hidamari Sketch, Seitokai Yakuindomo, Soul Eater) played Asuna's sisters Iyashi and Himeru, respectively.
---