News

Viz Media Adds Girls Bravo, Ratman Manga Digitally

posted on

2015-03-03

14:45 EST
---

North American manga and anime publisher Viz Media announced on Wednesday that it will debut four manga titles digitally under its Viz Select imprint: Girls Bravo, Ratman, Calling You, and Someday's Dreamers: Spellbound. Tokyopop previously published all four series in North America.
The first volume of Mario Kaneda's Girls Bravo will launch on March 17. Kaneda published the manga from 2000 to 2005 and the series was compiled into ten volumes. The anime adaptation premiered in 2004. Viz Media describes the story:
Meet Yukinari Sasaki, an average high school boy who has extreme girl-phobia - and an allergic reaction when girls touch him. One day, he befriends an alien named Miharu, who comes from a planet that houses only women. Remarkably, Yukinari is able to touch Miharu without breaking into a sweat. Accompanied by Miharu, he returns to his own world: but shortly thereafter, other girls follow them...and his life turns into one big mess!

The first volume of Sekihiko Inui's Ratman will be available on March 24. Inui launched the series in 2007 and Kadokawa Shoten published the 12th and final compiled volume in 2013. Viz Media describes the story:
Shuto Katsuragi is a superhero otaku. Only problem is, he's too short and always getting teased for his height...especially when he tries to emulate his favorite superhero! To make matters worse, Shuto suddenly gets abducted and tricked into participating in some rather sketchy and super-villainous experiments! What's a shrimp to do when his dreams come true in ways he never expected?

Setsuri Tsuzuki's one-volume manga Calling You, which adapts Otsuichi's novel of the same name, will launch on March 10. In addition to the manga, Tokyopop also published the original novel. Viz Media describes the story:
In these preternatural tales, a girl creates a cell phone in her imagination, with which she can communicate with others...A young boy discovers his new friend has the power to heal others-and learns about true friendship and sacrifice...And the restorative power of love confronts the tragedy and horror of a deadly train accident.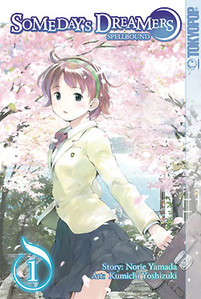 Someday's Dreamers: Spellbound from author Norie Yamada and artist Kumichi Yoshizuki is a spinoff of the pair's earlier Someday's Dreamers manga, which Viz debuted digitally last month. The spinoff series will be compiled into two volumes: the first volume will launch on March 24, followed by the second on March 31. Viz Media describe's the story:
Eighteen-year-old Nami is a magic user with a keen interest in helping everyone...but herself. Ryutaro is the new boy in school--he's rough around the edges and has a mysterious past, but beneath his rugged exterior is a gentle soul. When these two meet, they leave each other spellbound! It's new love in the world of Someday's Dreamers!
---