News

Wings of Honneamise, Live-Action Rurouni Kenshin, Bleach Released Monday

posted on by Andrew Osmond
---

On Monday April 6, Anime Limited will release the standard DVD edition of The Wings of Honneamise. (The Collector's Edition Blu-ray/DVD pack will follow on April 27.)
This 1987 film served as GAINAX's first anime production. The film follows Shirotsugh Lhadatt, an astronaut candidate for the world's first manned spaceflight program. Shirotsugh belongs to a small group who want to use technology to move mankind into the future and into space amidst two rivaling entities, the Kingdom of Honneamise and The Republic, who are on the verge of all-out war. Hiroyuki Yamaga (Magical Shopping Arcade Abenobashi, Mahoromatic - Automatic Maiden) directed and wrote the screenplay, and Yoshiyuki Sadamoto (Neon Genesis Evangelion) created the character designs. The film also launched the careers of other would-be directors such as Hideaki Anno, Hiroyuki Kitakubo, Mahiro Maeda, and Ichiro Itano.

Warner Home Video will release Blu-ray Steelbooks and DVD editions of the second live-action film based on the Rurouni Kenshin manga by Nobuhiro Watsuki. The middle part of a trilogy, Rurouni Kenshin: Kyoto Inferno (Rurouni Kenshin: Kyoto Taika-hen) was the highest-grossing Japanese live-action film of 2014.
In the story, Kenshin has settled into his new life with Kaoru and his other friends when he is approached with a request from the Meiji government. Against Kaoru's wishes, Kenshin reluctantly agrees to go to Kyoto and help keep his country from falling back into civil war. The film is rated '15' for 'strong bloody violence and injury detail.'
The first live-action Rurouni Kenshin film was already given a home release by Warner in 2014.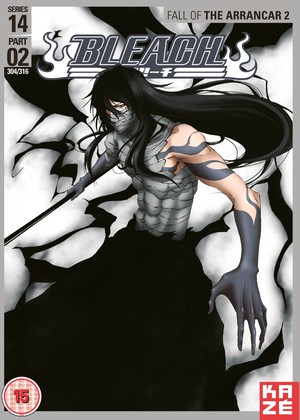 Manga Entertainment will release Bleach Series 14 Part 2, which carries episodes 304 to 316 of the series. From the fetch website:
"Ichigo vs Aizen: let the showdown for the sake of the two worlds begin! Humans and Soul Reapers realize their powerlessness against the astonishing might Aizen obtained through the Hogyoku. They once again owe their salvation to Ichigo, back from his training between worlds. More mature and more powerful, has the young man really reached a new stage of his evolution? Will he finally match for the relentless Captain Aizen? "
---