News

Yui Horie, Kana Asumi Classroom Crisis Anime Cast

posted on by Karen Ressler
5th character introduction video for July original anime streamed
---
The official website for the original television anime Classroom Crisis began streaming the fifth character commercial on Saturday, revealing two more cast members.
The new cast members are:

Yui Horie as Kaoruko Takanashi, a first-year student and operator at A-TEC. She's the youngest girl at A-TEC, and her timidity and delicate constitution make her loved by all, to the point of being their mascot. She handles communication during flight testing of prototypes, but she's normally helping Makoto order supplies.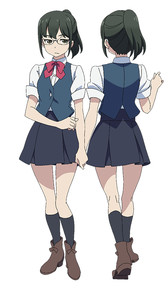 Kana Asumi as Yuna Nouen, a second-year student and accountant at A-TEC. She keeps a tight control over the budget, and is always giving A-TEC members a hard time for wasting what they've been allowed for rocket development.

The previously announced cast includes: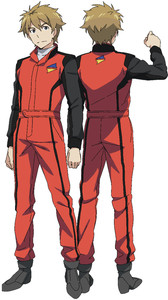 Showtaro Morikubo as Kaito Sera, a young hot-blooded teacher and room monitor who works for A-TEC. A natural-born engineer, he dreams of creating a new engine with his students. It seems like he'd be popular with the students because of his closeness in age, but once he gets going on an impassioned speech he can be annoying.


Ari Ozawa as Mizuki Sera, a third-year student and engineer who works for A-TEC. She lives with her big brother Kaito and does all the housework. She decided to become an engineer to follow in the footsteps of her late parents. She's a member of her class committee and dresses maturely.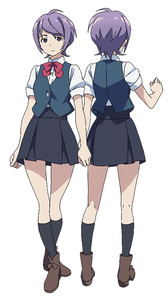 Sora Amamiya as Iris Shirasaki, a third-year student and poster girl test pilot for A-TEC. Not just a figurehead, she can boast incredible flying skills. However, she's not very safety-conscious, and even drives her bike recklessly during her commute, setting a new "course record" every day. Her friend Mizuki is always telling her to be careful.


Aya Suzaki as Tsubasa Hanaoka, a second-year high school student who is always full of spirit and is in charge of publicity and promotion for A-TEC. She was chosen for her position with A-TEC because of her characteristic cheerful personality and communication skills. Even though Kaito is her homeroom teacher and superior, she calls him "Kaitocchi." But despite her relaxed manner, she does respect him.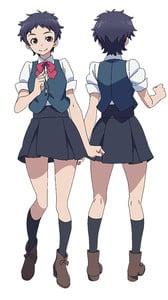 Shiina Natsukawa as Aki Kaminagaya, a second-year student in charge of engine maintenance for A-TEC. She is attracted to the senior engineer Kaito. As an engine maintenance worker, she assists Kaito and Mizuki. Aki has a strong enthusiasm for mechanics, and she tends to work all night without noticing. She is a bit of a workaholic.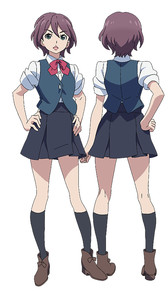 Minami Tsuda as Makoto Ryouke, a third-year student and classmate to Mizuki and Iris. At A-TEC she's responsible for ordering materials for aircraft construction. She has a big sister-like personality and stays calm in unexpected situations. She often plays the straightman to her classmate Kojiro.


Toshiyuki Toyonaga as Kojiro Kitahara, a third-year student and aircraft designer who works at A-TEC. He acts mature around his classmates Iris and Mizuki, but has a nebulous personality. Besides Kaito, the only boys at A-TEC are Kojiro, Sakugo, and Subaru, and the three are often doing stupid things together.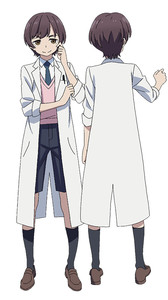 Yoshino Nanjō as Subaru Yamaki, a first-year student and A-TEC employee in charge of combustion experiments. He has an androgynous appearance and usually wears a lab coat and a uniform with short pants. When he's quiet he's mistaken for a girl. When he opens his mouth he's a confident and impertinent little devil.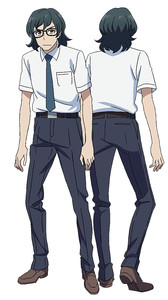 Takayuki Kondou as Sakugo Maioka, a second-year student and IT supervisor at A-TEC. He tries to be nihilistic but he goes in the wrong direction. He has a hunch that makes him seem like an otaku. But his data processing and hacking skills can be relied on in a pinch.


The "school x work romantic comedy" is an adolescent vignette about the troubles and tribulations of high schoolers on salary.
Kenji Nagasaki (Gundam Build Fighters, No. 6) is directing the series at studio Lay-duce (Magi: Adventure of Sinbad, Go! Go! 575), Hiro Kanzaki (Oreimo, EUREKA SEVEN AO, Go! Go! 575) is designing the characters with animation director Satoshi Ishino, and Fumiaki Maruto (Saekano: How to Raise a Boring Girlfriend, White Album 2) is in charge of scripts. MONTWO wrote the original story. TrySail will perform the opening theme song "Cobalt," and ClariS will perform the ending theme song "Anemone."
Other staff members include:
Chief Animation Directors: Satoshi Ishino, Takeshi Yoshioka, Ayumi Kurashima
Concept Art Design: Kazuhiro Hocchi
Mechanical Design: Toshinari Tanaka
Mechanical Prop Design: Takashi Akaishizawa
Color Plan: Reiko Iwasawa
Art Directors: Takashi Aoi, Masahiro Obata
Background Artist: Takuya Ebisawa
Director of Photography: Haruka Gotō
Editing: Takeshi Sadamatsu
Sound Director: Akiko Fujita
Music: Yuuki Hayashi
This anime will air in the Animeism programming block beginning on July 3.

The series will get a manga adaptation, novel adaptation, and spinoff novel. The prologue of the manga adaptation, by artist Masaharu Takano, will premiere in the August issue of Kadokawa's Monthly Comic Alive on June 27.
Hajime Taguchi will write the novel adaptation of MONTWO's story, and rin and Lay-duce will illustrate. Hajime Asano will write the spinoff novel about the daily lives of members of A-TEC, and Kingin will illustrate. The first volumes of both will ship on July 24.
Thanks to Dennis R. for the embedded video.
Images © CC PROJECT
---