×
remind me tomorrow
remind me next week
never remind me
Subscribe to the ANN Newsletter • Wake up every Sunday to a curated list of ANN's most interesting posts of the week.
read more
News

Gundam Thunderbolt Anime's 1st Episode Promo Shows Rival Pilots

posted on by Rafael Antonio Pineda
---
Bandai Visual began streaming a promotional video in both long and short versions on Tuesday for the first episode of its upcoming net anime of Yasuo Ohtagaki's Mobile Suit Gundam Thunderbolt manga.
Text: Yasuo Ohtagaki's Mobile Suit Gundam Thunderbolt, with over 1.4 million copies in print, gets a long-awaited anime adaptation!!
Text: Planning, Production: Sunrise
Text: From the staff that brought you Mobile Suit Gundam UC comes a new Universal Century story
Text: Director: Kou Matsuo
Text: Animation Character Design: Hirotoshi Takaya
Text: Animation Mechanical Design: Morifumi Naka, Seiichi Nakatani, Hajime Katoki
Text: Music: Naruyoshi Kikuchi
Man: In the Thunderbolt sector, we're free. I love mobile suits. In the battlefield of space, I'm free.
Io: Hey, seems like you're an ace in a sniper unit, but your taste in music is pretty average. I'm disappointed.
Daryl: I won't let you run next time. I will get you. I am Sergeant Daryl Lorentz. I'll always be aiming at you.
Text: Yūichi Nakamura as Io Fleming
Text: Ryohei Kimura as Daryl Lorentz
Io: I'm Ensign Io Fleming. When you hear the jazz, you'll know I've arrived.

The show's cast includes:
Yūichi Nakamura as Io Fleming
Ryohei Kimura as Daryl Lorentz
Toa Yukinari as Claudia Palh
Sayaka Ohara as Kara Mitchum
Daisuke Hirakawa as Cornelius Caca
Shunsuke Sakuya as Graham
Mutsumi Sasaki as Burroughs
Hiroshi Tsuchida as J.J. Sexton
Sunrise's official Gundam portal site previously revealed the character designs for Io and Daryl, as well as the design for the Full Armor Gundam.
Io Fleming


Daryl Lorentz


Full Armor Gundam


Kou Matsuo (Valvrave the Liberator director, Gundam UC, Gundam 00 storyboard) is directing the anime and writing the scripts at Sunrise. Hirotoshi Takaya (Eyeshield 21, Kekkaishi, Yu-Gi-Oh! Zexal) is designing the characters for animation; and Morifumi Naka (Stink Bomb, A Wind Named Amnesia, Texhnolyze), Seiichi Nakatani (both Gundam 00 seasons and film), and Hajime Katoki (Gundam Wing, Patlabor 2: The Movie, Mobile Suit Gundam: The 08th MS Team) are in charge of the animation mechanical design. Other staff members include:
Art Director: Goki Nakamura
Color Key: Takako Suzuki
CG Director: Tomohiro Fujie
Monitor Design:Takashi Aoki
Director of Photography: Kentarō Waki
Editing: Daisuke Imai
Music: Naruyoshi Kikuchi
Sound Director: Eriko Kimura
Sound Effects: Mutsuhiro Nishimura
The anime will have a total of four episodes. The first episode will be available digitally on December 25 starting at 12 p.m. in Japan (December 24 at 10:00 p.m. EST). The first episode will be available via an EST (Electronic Sell Through) service that will allow purchasers to download the episode. This is the first time a Gundam series will be available via this method. Those interested can purchase the first 18-minute episode along with a special bonus video titled "Ichinen Sensō ni Idonda Mono-tachi ~Documentary of Thunderbolt #1" (Those Who Challenged the One-Year War ~Documentary of Thunderbolt~ #1) for 500 yen (about US$4). The documentary is listed as being approximately 10 minutes long.
The episode on its own will also be available via a rental video-on-demand service for 250 yen (US$2). The staff have not yet revealed the territories the anime will be available in, or if Sunrise will release the anime with English subtitles or an English audio track. Sunrise will also reveal the services that will sell/rent the anime at a later date.
Those who have a subscription to the Gundam Fan Club app will be able to purchase the episode starting on December 11 at 12:00 p.m. in Japan.
The story is set in the same One Year War in UC 0079 as the first Mobile Suit Gundam anime series. It follows the battles between two ace pilots at the "Thunderbolt Sector," a shoal zone with numerous wrecks of space colonies and warships.
The anime's official website revealed a key visual earlier this month. The visual features Ensign Io Fleming of the Earth Federation and Sergeant Daryl Lorentz of the Principality of Zeon, along with their respective mobile suits, the Full Armor Gundam and the red Psyco Zaku. The accompanying tagline reads, "The two are fated to kill each other."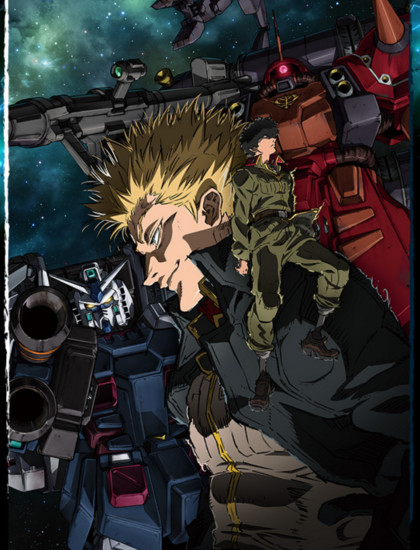 Ohtagaki launched the manga in Shogakukan's Big Comic Superior magazine in March 2012, and Shogakukan published the sixth compiled book volume on October 30. The manga has 1.4 million copies in print.
Ohtagaki also created the Moonlight Mile manga, which inspired a 2007 television anime. ADV Films (and later FUNimation Entertainment) released the Moonlight Mile anime in North America.
---