News

Happy Elements Reveals Original Anime Series Idol Memories

posted on by Crystalyn Hodgkins
Cast, staff, story, trailer, key visual revealed for series premiering in October on
Tokyo MX
---
Smartphone game company Happy Elements revealed during a live streaming event on Niconico on Friday that it is producing an original television anime series titled Idol Memories that will premiere in October. The anime will air on Tokyo MX, and will be a "hybrid anime" where 15 minutes of the program will feature anime and 15 minutes will feature a live-action segment.
Happy Elements has also opened a website for the series.

The anime takes place in 2035 where virtual reality technology has evolved enough that people can experience world travel and other live event experiences from the comfort of their own home. In this space, idols perform live events for a worldwide audience. As worldwide popularity of idols performing in "VR Rooms" increased, the Kanon Private Academy was established on Beginning Island to train new idols. These idols compete and strive to reach the top of the "World Idol League." The anime will focus on the six idols who make up the two units "StarRing" and "Shadow."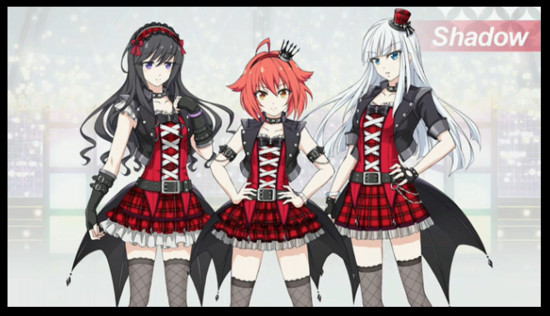 The anime will star:
Moe Toyota as Vivi Lin, an idol from Shanghai and StarRing's bright and cheerful mood maker. Her dream is to one day return to China to perform a concert.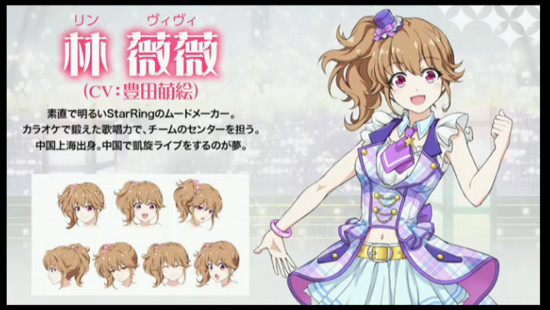 Yū Kimura as Kokona Hayakawa, a member of StarRing who has strong feelings that she doesn't want to lose to anyone, but she keeps those feelings hidden. She wants to be an idol like her great-grandmother, who was a stage actress. She studied abroad in China.


Marika Hayase as Sena Hattori, StarRing's self-styled leader who has an intellectual older sister-like appearance, but she is in truth an airhead. Her hobby is Lego blocks.


Mayu Sagara as Miku Kajiwara, Shadow's unit leader, and the youngest member. She is diligent, stable, and despite being the youngest she usually is the group's "straight man."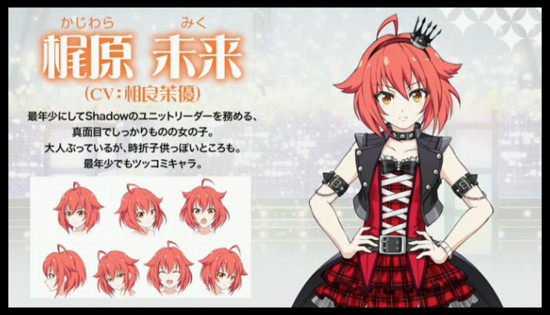 Riko Kohara as Nanami Hoshi, a member of Shadow who is shy and likes to stay indoors. She likes to collect figures and merchandise, and her hobby is programming. Although she has good eyesight, she sometimes wears glasses.


Ruriko Aoki as Yucho La, a member of Shadow and a "lazy genius" who has a pet husky she is close with. She is from Dalian.


The show's cast appeared during the event to talk about their characters, perform lines in character, and answer questions.

Happy Elements Asia Pacific is credited with the original plan and original work for the anime. Katsuya Kikuchi (Sengoku Paradise Kiwami director, Beautiful Bones -Sakurako's Investigation- episode director) is directing the series at Seven Arcs Pictures. Hiroshi Ohnogi (Star Blazers 2199, Eureka Seven, RahXephon) is writing and overseeing the scripts, Graphinica is designing the original characters, Rena Okuyama (Sengoku Paradise Kiwami character designer, Beautiful Bones -Sakurako's Investigation- animation director) is the animation character designer and chief animation director, and Chikako Yokota (K: Return of Kings, Dog Days') is the sound director at Glovision. Tetra Japan is handling the 3D CG animation, and Tezuka Productions is handling the background art.
Happy Elements is the developer of the Ensemble Girls!! smartphone game, as well as the Ensemble Stars! spinoff game. A stage play adaptation of Ensemble Stars! ran in Japan from June 18-26, and a television anime adaptation has been green-lit.
---