News

Girls & Panzer Film, Knights of Sidonia Manga Win Seiun Awards

posted on by Egan Loo
---

The 55th Japan Science Fiction Convention (Nihon SF Taikai) announced the winners of the 47th Seiun Awards on Saturday. The attendees of the 55th Japan Science Fiction Convention at "Iseshimacon" in Toba in Mie Prefecture voted on the winners.
The Girls und Panzer anime film and Tsutomu Nihei's Knights of Sidonia manga won awards. The convention also honored the late artist Noriyoshi Ōrai (Godzilla series, Macross, Gundam), Shinji Kajio's Vendetta Planet epic, Ann Leckie's English-language novel Ancillary Justice, and Ken Liu's English-language short-story "Good Hunting."
"Seiun Shō" literally translates to "nebula awards," but the Japan SF Con's Seiun Awards are more akin to Worldcon's Hugo Awards, in that the members of each respective convention vote on the winners. There is another set of awards, the Science Fiction and Fantasy Writers of Japan's Nihon SF Taishō honors, that are the rough Japanese equivalent of the Science Fiction and Fantasy Writers of America's Nebula Awards. Like the Hugo Awards, the Seiun Awards honor all forms of speculative fiction — including but not limited to science fiction — and related materials.
Previous winners of the Seiun Awards include The World of Narue, Bodacious Space Pirates, Range Murata, Masamune Shirow, Makoto Shinkai, Fullmetal Alchemist, Gundam: The Origin, 20th Century Boys, Summer Wars, Card Captor Sakura, Madoka Magica, Pacific Rim, Space Battleship Yamato 2199 Odyssey of the Celestial Ark, Moyashimon, Aoi Honō, The Martian and more.
This year's winners include:
Best Japanese Long Story

Vendetta Planet (Enshū Seiiki)
By Shinji Kajio
When an upsurge in solar flares threatens global extinction on Earth, the American president and 30,000 hand-picked elites secretly flee the planet aboard the spaceship
Noah's Ark
. The 7 billion left behind face certain death, until one of them discovers the secret of interstellar travel and formulates a mass exodus. The story follows the two divided fates of humanity.
Kajio serialized this science fiction epic over the course of nine years in Hayakawa Publishing's SF Magazine. He also wrote the original story for Kenji Tsuruta's Omoide Emanon and Sasurai Emanon manga.

Best Japanese Short Story

"Tatara Island Again" ("Tatara-jima Futatabi")
By Hiroshi Yamamoto
"The Man Who Took The Footprints of Kaijyu Rukusubigura" ("Kaijū Rukusubigura no Ashigata o Totta Otoko")
By Hirofumi Tanaka
Both of these short stories appeared in
Tatara-jima Futatabi: Ultra Kaijū Anthology
, a collection of stories by Hayakawa Publishing's leading authors about the monsters in Ultraman and other
Ultra
series from
Tsuburaya Productions
.
Best Translated Long Story

Ancillary Justice
By Ann Leckie (translation by Hideko Akao)
"On a remote, icy planet, the soldier known as Breq is drawing closer to completing her quest.
"Breq is both more than she seems and less than she was. Years ago, she was Justice of Toren–a colossal starship with an artificial intelligence linking thousands of corpse soldiers in the service of the Radch, the empire that conquered the galaxy.
"An act of treachery has ripped it all away, leaving her with only one fragile human body. And only one purpose–to revenge herself on Anaander Mianaai, many-bodied, near-immortal Lord of the Radch."
This novel already won the Hugo, Nebula, and numerous other awards.

Best Translated Short Story

"Good Hunting"
By Ken Liu (translation by Yoshimichi Furusawa)
Liu
posted
this story in English in the online magazine
Strange Horizons
. Viz published his story "Mono no Aware," which
won
the Hugo Award, and "The Paper Menagerie" by Liu won last year's Seiun award in the Translated Short Story category, as well as Nebula, Hugo, and World Fantasy Awards. His "The Man Who Ended History: A Documentary" novella was nominated for a Hugo in 2012 and a Nebula award in 2011.
Best Dramatic Presentation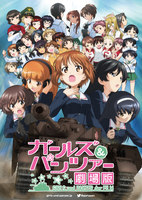 Girls und Panzer der Film
Best Comic

Knights of Sidonia
By Tsutomu Nihei
Best Artist

Noriyoshi Ōrai (Godzilla series, Macross, Gundam)
Best Nonfiction

Ten Thousand Light Years to Science Fiction and Over One Hundred Thousand Light Years to Science Fiction
By
Keinojou Mizutama
Two collections of essay comics that were serialized in
SF Magazine
by the
late
artist and respected science fiction fan Keinojou Mizutama (
MAOYU, Brigadoon, Kasei Monogatari
)
Free Section

Perry Rhodan series
In recognition of Hayakawa Publishing, which translated the 500th volume (out of about 1,000) of this German space hero pulp series in 2015
Source: animeanime.jp
---